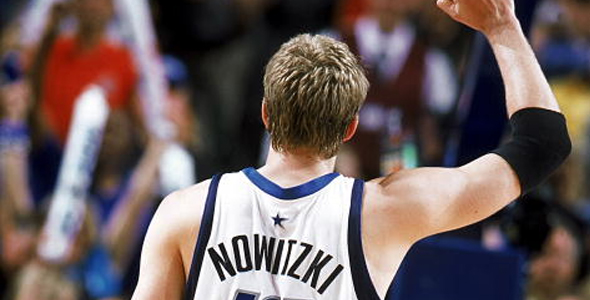 May 1, 2010 – Kevin Burke
Dirk Nowitzki is one of the more uniquely gifted players the NBA has ever seen. Never before have we seen a guy of his size do what he does with the basketball, making him virtually unguardable. In his 12 year NBA career, he has averaged 22.9 points per game and grabbed 8.5 boards a night. He is a perennial All-Star and has participated in the mid-February game nine times. He has led the Mavericks to 50 wins each of the last 10 seasons (I actually find that to be his most impressive accomplishment) and was also the NBA's MVP of the 2006-2007 season. I could go on-and-on about Dirk's greatness and very impressive credentials.
But…
Despite all of that, the man simply does not have "it". It is very difficult to define "it". Actually, "it" doesn't really have a definition. You know "it" when you see "it" and it's clear that Dirk doesn't have "it". Coming into this playoff tournament, the Dallas Mavericks were the sexy pick. Many pundits had them pegged to come out of the West. But fortunately for me, I didn't drink the Kool-Aid. I never drink the Kool-Aid. Nor do I ever believe in Dallas in the postseason. They were just bounced in the first round by a hobbled Spurs team in 6 games. That is their third first round exit in the last four seasons.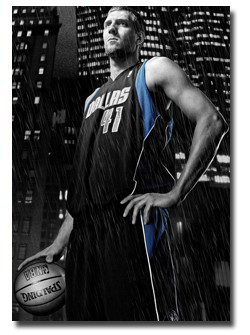 Ever since the #1 seeded Mavs were knocked out by the #8 Golden State Warriors in the first round of the 2007 playoffs and Dirk had to receive his MVP trophy at home (or where ever it was) rather than on the court in the second round like we have become accustomed to seeing other MVPs do, I began scratching my head. Something about the MVP not receiving the award on the court didn't seem right. I cannot remember that ever happening before. It was fitting that it happened to Dirk.
In sports, teams generally take on the attitude of their best player. That has been the case in Dallas for the past decade. Despite his greatness, Dirk is one of the softest players in the league, and therefore, his teams lacked toughness – the kind of toughness that most championship caliber teams have. How many times does Dirk get knocked to the ground or get bullied down low by someone who is half-a-foot shorter than he is? Too often. That was the case when the Warriors beat them in the playoffs in '07. Stephen Jackson simply "out-physicalled" him to the point that it appeared as if he didn't even want the ball anymore, and standing side by side, Dirk towers over Jackson. 
It's about time that Mark Cuban realizes that Dirk is a complimentary player, not a guy you can build a championship team around. In fact, Dirk is the best complimentary player the league has ever seen. That's right, he is a great complimentary player. I'm sure that's tough to grasp. I don't quite understand it myself. That's because we've never come across such a case before. Yes, Mavs came close to winning it all against the Heat in the Finals a few years ago by taking the first 2 games, but then reality (and Dwayne Wade) set in. Dirk will be a free agent this summer. At age 32 and at this stage of his career, it would be foolish for Dirk to go somewhere else. He and Mark Cuban belong together. But, it would behove Cuban and Mavericks brass to stop bringing in complementary players to complement another complementary player. They need to bring in a bonafide superstar. A guy who can get it done. That's tough because Dirk is a power forward trapped in a 6'1″ guy's body. Therein lies part of the problem. He plays both down low and on the perimeter. It appears as if his unique skill-set has played against him (just like it has for Allen Iverson). That's besides the point though. Cuban needs to finally make a splash for a guy who is better than Dirk. Nowitzki is getting long in the tooth now, so that's the only way they'll win in Dallas as long as Dirk is there and is young enough to still produce.
If you're looking for your everyday, predictable basketball talk, then go somewhere else, because Kevin Burke of The Kevin Burke Project brings provocative, thought provoking content about basketball as only he can. Kevin also hosts The Hoop Doctors weekly podcast show, which you can subscribe too for free on iTunes.