May 16, 2010 – Allen Moll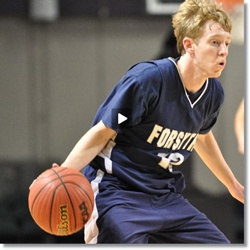 In the state of North Carolina, highly touted Class of 2012 point guard, Tyler Lewis is arguably already the best passer in the high school ranks, and he is just finishing up his sophomore campaign. Lewis is drawing the interest of a number of high level Division I schools like NC State, Wake Forest, and Miami, because of his amazing abilities as a passer, ball-handler, and scorer at Forsyth Country Day in Winston-Salem, and because he has a game that is closely modeled after 2 time NBA MVP, Steve Nash.
While no one is anointing the 15 year old baller as the next anything just yet, upon watching this video of his play-making skills, he does draw an immediate comparison to the Phoenix Suns' highlight reel floor general. On some plays he seems to have eyes in the back of his head as he consistently penetrates against opposing defenses and shows a knack for finding open teammates in traffic just like Nash.
Hopefully with his diminutive stature at only 5'10 and 155 lbs, Lewis never has to suffer through taking a beating like his NBA contemporary Steve Nash has this postseason, like having your right eye swell shut from an inadvertent opponent's elbow. On the other hand, it's always a possibility since Tyler has reportedly been playing basketball against much older and bigger opponents on the varsity level in high school since the 7th grade!
Tyler was introduced to the game of basketball by his father at the ripe age of 3 and had already won his first state championship in AAU competition by 9 years old. Basketball is obviously in his genes since his older brother Colby, is a freshman on the UNC-Charlotte squad.  Be sure to remember the name Tyler Lewis, since he is poised to make a splash somewhere on the collegiate level in the Fall of 2012.
Allen Moll is an avid NBA and College Basketball fan who watches and studies games religiously and coaches youth basketball in his native Lehigh Valley region of Pennsylvania. Allen is a regular columnist for thehoopdoctors.com, Bleacherreport.com, UpperDeckblog.com, and his own site, Hoops Haven.