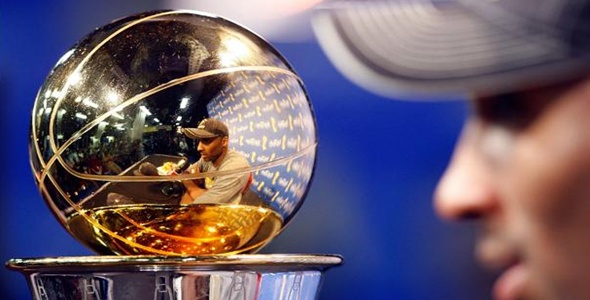 April 16, 2010 – Allen Moll
The 2010 NBA Playoffs should be as exciting as ever with a number of plot-lines and back stories that are just as interesting as the games themselves.  A lot more is on the line than just winning for a number of teams and participants as a plethora of superstar players on contending teams will be testing the free agency waters as soon as their seasons are over.  More than any other year in recent memory, the future of the NBA landscape will be shaped by these playoffs and their outcomes.  Here are my Top 10 Storylines For the 2010 NBA Playoffs: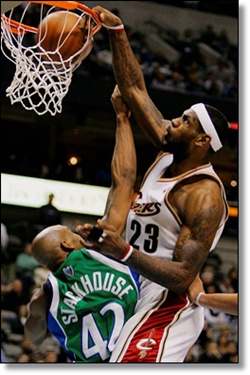 1) Can Cleveland Win a Ring and Keep Lebron?
Come July 1st, more than a dozen teams will try to convince the best player in the league to be their next franchise player. A lot hinges on whether the Cavs, who spent heavily to acquire Shaquille O'Neal and Antawn Jamison to both, win a championship for Cleveland and to entice Lebron to resign with the Cavs. If the Cavs once again come up short in the Playoffs, will James stay or go? If he wants the best chance to win now, Cleveland is his best option. If he wants to be mentioned among the all-time great multiple title winners, he must go elsewhere since the Cavs, how currently constructed, are only built for the short term.
2) Will The Lakers Regain Their Championship Form?
Most fans who bleed purple and gold are a bit nervous heading into this post-season. After all, the Lakers stumbled down the stretch with a mediocre 16-12 record after sailing into the All-Star break with a cool 41-13 mark. Was it the seemingly yearly injury to Andrew Bynum, that a nicked up Kobe Bryant appeared mortal, or that their 2nd half schedule had them playing too many games on the road? With Coach Phil Jackson's future with the club already being questioned, he may be forced to do his best coaching job in his illustrious career, if the Lakers are to win another championship.
3) Is It Now Or Never For The Mavericks?
Many people feel that the current Mavs team is better than the version which went to and lost in the Finals a few short years ago. Give owner Mark Cuban credit, he has surrounded Dirk Nowitzki with quite possibly his most talented supporting cast he's ever had in Dallas. The mid-season acquisitions of Caron Butler and Brendan Haywood, along with DeShawn Stevenson provides them with the perfect balance of height, depth, and defensive presence to make a deep run in the Playoffs. At age 31, and possibly free agency on the horizon, this may be Dirk's last chance for a title.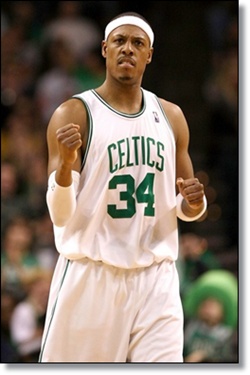 4) Will The Celtics Win Another Championship Or Lose In The 1st Round?
When healthy, the Celtics are still an elite team in the NBA. The problem is that they never seem to be 100% healthy. The big 4 of Garnett, Pierce, Allen, and Wallace has begun to lose a step(or two) and now need to play a perfect series to get back to another NBA Finals. Garnett is still a defensive force although he has lost nearly a foot off of his vertical leap. Pierce has a huge heart as the unquestioned leading scorer but struggles to stay in front of opponents on defense. Allen still strikes fear from the perimeter but has been inconsistent, and Sheed has been disappointing off the bench with his love affair behind the arc. The true lynch-pin of the squad is the stellar play of Rajon Rondo. The bad part is that Garnett and Wallace are under contract for two more seasons. I hope Ben-Gay and Motrin are Boston's sponsors.
5) Can Atlanta Get Out Of The 2nd Round?
The upstart Hawks have been steadily improving their regular season win total for the past 3 season but have yet to get out of the 2nd round in that span. Are the Hawks as good as they can possibly get? Can you see them beating either Orlando or Cleveland? I hate to say it but with leading scorer Joe Johnson set to test the free agent waters this Summer, the Hawks may be at their peak. Barring a miracle, they should once again fall short in the 2nd round then be forced to bring back Johnson for max money, even though he has failed to be able to carry a team to a championship, or be forced to take a step backwards. They are the equivalent of the Donovan McNabb led Eagles of the NFL.
6) Are The Spurs The Team That No One Wants To Play?
Heading into the playoffs on a 35-20 tear, the Spurs definitely are the hottest team coming into the post-season. The ageless wonders have obviously gelled at the right time and seemed primed to make a run at another NBA Title. Playing in a combined 468 games in the playoffs between Duncan, Parker, Ginobili, and Jefferson, the Spurs have the edge in experience. The Spurs would have probably wanted a first round match-up with the Suns, since San Antonio has eliminated Phoenix from the playoffs in '03, '05, '07, and '08.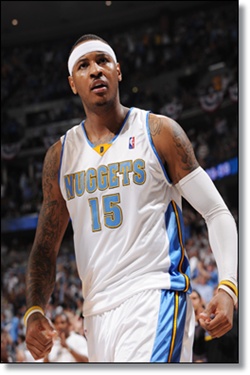 7) Are The Nuggets Good Enough To Win Without Coach Karl?
How much does coaching mean to a team, especially in the playoffs? When it comes to probable Hall of Fame coach George Karl, it probably means a lot. Since Karl will be unavailable for at least the 1st round, Adrian Dantley, who guided the Nuggets to an uninspiring 11-8 mark in his absence, will be at the helm. A number of players have already questioned his rotations and decision making as the season ended. Will Karl's absence be a distraction or help rally the Nuggets?
8 ) Will The Turkoglu For Carter Swap Help Orlando Win A Title?
Virtually everyone predicts an Orlando/ Cleveland Eastern Conference Finals match-up. Both teams have made major moves to counteract each-other. Orlando's addition by subtraction of bringing in Vince Carter for Hedo Turkoglu has had mixed results since it has only increased the Magic's offensive production by 1.5 points. A healthy Carter has a much higher upside and is undoubtedly the X-factor in Orlando's chances of winning a title. But does Cleveland's depth of perimeter defenders help cancel out Carter?
9) Can The Young Thunder Make Some Noise Or Are They Just Happy To Be Here?
The Thunder are a success story made for television. A young Kevin Durant coming of age, winning his first scoring title at the age of 21, helping his squad double their win total from last season, and leading OKC to their first playoff appearance in their short history. In everyone's minds, the Thunder have over-achieved this season. Does that include the players? With most of the roster getting their first taste of the post-season, there are bound to be butterflies. OKC has a bright future ahead of them, this is just the first step. Their reward for all the accomplishments: a first round tilt against the defending champion Lakers. Good luck!
10) Will Utah's Jerry Sloan Finally Win A Title?
After making it to the NBA Finals on multiple occasions behind the Hall of Fame duo of Stockton and Malone in the mid to late 90's, wouldn't it be ironic if the resurgent Jazz were able to win coach Sloan a title in a year with such little expectation. Sloan somehow helped to inspire his team to yet another 50 win season, his 13th, in Salt Lake City. Although usually defensive minded, the Jazz behind Carlos Boozer and Deron Williams(the new Stockton and Malone?), finished 2nd in FG% at 49%, and averaged more than 104 ppg. Wouldn't it be ironic if Sloan, who is a staunch teacher of defensive principles won a title with such a talented offensive team?
Allen Moll is an avid NBA and College Basketball fan who watches and studies games religiously and coaches youth basketball in his native Lehigh Valley region of Pennsylvania.  Allen is a regular columnist for thehoopdoctors.com, Bleacherreport.com, UpperDeckblog.com, and his own site, Hoops Haven.