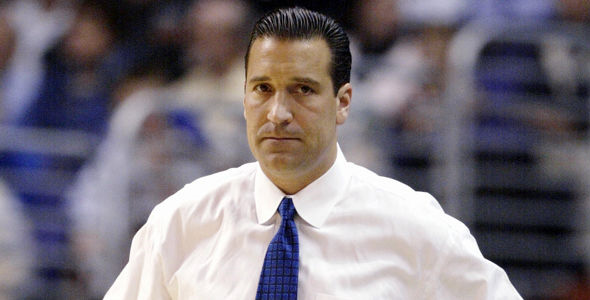 April 5, 2010 – Kevin Burke
The simple fact that Steve Lavin's hire at St. John's flew under the radar is evidence that he alone may not be enough to reenergize the proud New York program. St. John's is one of those programs with rich tradition and that is highly repsected. However, of late, the Red Storm have been anything but. They have not been to the NCAA tournament since 2002, and really have not been relevant since Ron Artest donned the the red and white uniform. Living in the New York Metro area, you have to be here to truly appreciate what the program stands for.
From names like Chris Mullin to Mark Jackson – and more recently, Felipe Lopez (the poster child for why you shouldn't stay in school too long), Ron Artest, Omar Cook (the poster child for why you shouldn't leave school too early), Erick Barkley, and Marcus Hatton, St. John's has had some real ballers come through. I find it amazing that a school located where they are, and that plays a handful of their home games at Madison Square Garden, has a tough time recruiting top notch talent. That's where Steve Lavin come in. At least, that's the intent. Lavin replaced Norm Roberts who had an 81-101 record in 6 years. Lavin is supposed to lure New York talent to actually stay home and play for the Red Storm. Big names from the New York market have largely been leaving the area for schools that have been more relevant of late. They haven't been staying close to home because St. John's has fallen off.
With a 145-78 record at UCLA, before becoming an ESPN analyst, Lavin certainly has the resume for success. But it won't be easy. He is going to need a staff with strong New York ties that can get in with AAU and high school coaches. I am definitely rooting for him to be able to make this program relevant again because Big East basketball is better with St. John's is winning. Let's just hope he gets a staff that can help get it done.
If you're looking for your everyday, predictable basketball talk, then go somewhere else, because Kevin Burke of The Kevin Burke Project brings provocative, thought provoking content about basketball as only he can. Kevin also hosts The Hoop Doctors weekly podcast show, which you can subscribe too for free on iTunes.