April 19, 2010 – Kevin Burke
In case you missed it, Kevin Garnett has been suspended for Game 2 of the Celtics 1st round tilt againt the Miami Heat. Late in Game 1, as Garnett was standing over his teammate Paul Pierce, who was on the floor nursing an apparent shoulder injury, The Heat's Quentin Richardson came over and allegedly said something to Garnett and/or Pierce. Garnett didn't appreciate whatever Q said, and a mini dust-up ensued. Nothing serious. However, KG did catch Q with a sharp left elbow, and as a result has been suspended (That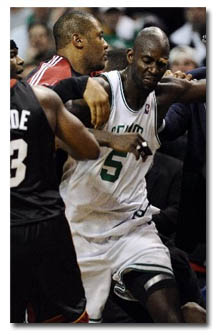 elbow was definitely intentional despite what anyone wants to say).  As soon as I saw the first of the 50-something replays that followed, I knew right away that he would be suspended. Dwight Howard was the precedent last year when he nearly killed Samuel Dalembert with a Karl Malone-esque elbow swing. But is this suspension necessary?
I know that David Stern and league officials are trying to clean up the game's image in the wake of the 2004 brawl in Detroit, but at some point you have to let men play ball. That KG elbow never would've warranted a suspension 20 years ago, and they fought way more often then as they do now. When was the last real fight in the NBA? Probably when Carmelo sucker punched Mardy Collins before running for his life in 2006.
Despite tempers being flared, there was never any real threat of a fight or brawl breaking out, but for some reason, what happened was described as a melee. That was expected. Everyone looks for a reason to sensationalize things and make the NBA out to be something that its not. Although I saw it coming, it's still very disappointing to see KG be suspended.  The league needs to loosen up a bit and let these guys play. What were the ramifications of KG's elbow? Absolutely nothing. Q didn't retaliate. The whole thing was over that quickly. I don't see the problem. Playoff series are sometime won and loss because of suspension like this or because guys leave the "bench area." That's complete nonsense. Just ask the Suns from a few years ago. David Stern can't feel good to see a team advance because of unwarranted suspensions. That worsens his product.
If you're looking for your everyday, predictable basketball talk, then go somewhere else, because Kevin Burke of The Kevin Burke Project brings provocative, thought provoking content about basketball as only he can. Kevin also hosts The Hoop Doctors weekly podcast show, which you can subscribe too for free on iTunes.