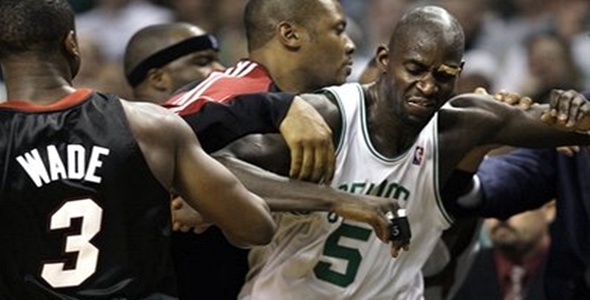 April 19, 2010 – Allen Moll
No one in the NBA strikes fear in an opponent like Kevin Garnett. He is the Master of Disaster, the Beantown Bully, or whatever clever nickname you want to give him, but even in his 15th NBA season, absolutely no one does intimidation like Garnett. The Celtics may be in danger of losing "KG" for Game 2 of their playoff series against the Miami Heat after the feisty, former league MVP was involved in a multi-player dust-up in Game 1's final minute, highlighted by taunts, trash-talking, shoving matches, and not to be left out……………elbows.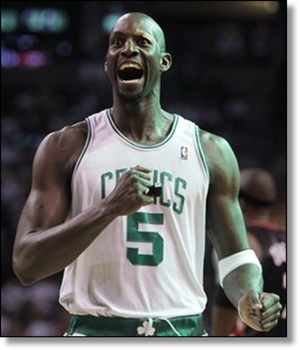 Even though the Celtics made a soul searching comeback from a half-time deficit to win Game 1, Garnett's two late technicals, and subsequent ejection, may leave Boston without the services of Garnett for Monday's rematch at TD Garden.  If the Celtics defensive leader is suspended, Coach Doc Rivers will be forced to use either Rasheed Wallace or Glenn "Big Baby" Davis in a starting role, which has not yielded winning ways, since they are 5-6 without Garnett this season.
The whole altercation started after Garnett came to the aid of injured teammate Paul Pierce, who had collapsed to the floor directly in front of the Heat bench. As play stopped and Garnett hovered over Pierce, Miami's Quentin Richardson appeared to pick that exact moment to try to talk trash to the Celtics fallen star. True to his reputation as the game's best trash talker, Garnett gave it right back as words turned to shoves, and then as players from both teams converged, Garnett elbowed Richardson right in the left temple. What ensued from there was viewed as multiple minor skirmishes as Glen Davis and Jermaine O'Neal also shoved each-other until seperated. Garnett was assessed an initial technical for taunting, and then the second for the elbow, earning him an early trip to the showers.
Take a look at the video:
When asked about whether he should be suspended in a post-game interview, Garnett replied:
"You make your bed, you have to lay in it." "It just is what it is. If I see any of my teammates down, I want to make sure that they are all right. So if I have to deal with it, than that's what it is." "I just saw 'Q' standing over him, talking nonsense," "I have no beef with 'Q.' I know him personally. I thought what he did was a little disrespectful by standing over a guy that was hurt, just talking nonsense. Before you knew it, it just all broke out. I have to use my head. The only thing I saw was Paul was hurt, and that was the only thing I cared about at the time. I don't remember air-boarding anybody. I just remember people grabbing me."
Miami's Richardson has had a long standing feud with Pierce going back to when Richardson was a high school recruit making a visit to Kansas, where Pierce was the Jayhawks big man on campus. To make a long story short, Richardson wound up attending DePaul, and not Kansas. Two years ago both were ejected for aggressive trash-talking during a game, while Richardson was a member of the NY Knicks. The spat continued as the two walked up the ramp to the locker room.
Richardson commented after Game 1, and had a different take on who started the altercation where he questioned the validity of Paul's injury and calls Garnett an "actress":
"Garnett is an 'actress' and so is Paul." "I was going to take the ball out over there. That was what I was trying to do. I told our trainer Jay [Sabol] that [Pierce] is cool and he's doing what he always do, lay down like it's a season-ending injury, then he gets up and he's miraculously fine. He gets a breath, takes his time or whatever and he did the same thing." "It should be a suspension [for Garnett]. We'll see. That's up to the NBA. But I've seen things like that in the past and people get suspended. I was cool. I was going to try going at him, but with me being restrained, that's what it was."
While no one is really sure of the root of all the hatred, one thing is for sure, tune in for Game 2 on Monday night for Round 2. Whether or not Garnett is allowed to participate, this is much watch TV.
Allen Moll is an avid NBA and College Basketball fan who watches and studies games religiously and coaches youth basketball in his native Lehigh Valley region of Pennsylvania.  Allen is a regular columnist for thehoopdoctors.com, Bleacherreport.com, UpperDeckblog.com, and his own site, Hoops Haven.