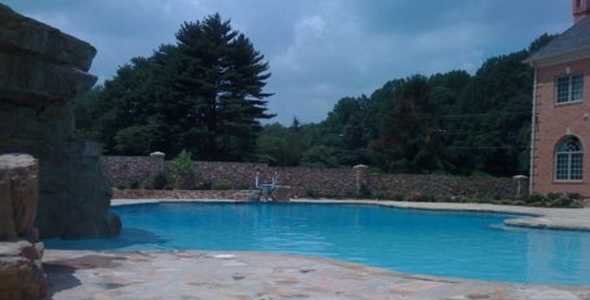 April 20, 2010 – Allen Moll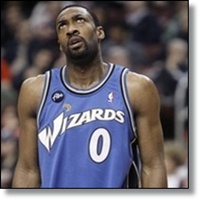 As soon as he gets out of a halfway house, as punishment for his gun toting incident with a teammate in the Wizards locker room, Gilbert Arenas can go back to trying to find ways to spend his astronomical $16.1 million dollar paycheck from this past season. In fact, Gilbert has stolen earned more than $42 million from the Wizards over the past 3 seasons for playing in only 47 games due to either injuries, or more recently, an NBA league office imposed suspension.
One thing is for sure is that Arenas has had plenty of time for rest and relaxation over the last few seasons, as part of numerous rehabs, resting his surgically repaired knees. Just in case Gilbert has a lot more free time over the Summer, he can spend it maxin' and relaxin' at his multi-million dollar pool/entertainment complex on his property, which is so elaborate it would put Hugh Hefner to shame, and is rumored to be one of the largest residential pools in America. I guess it's a case of keeping up with the Joneses since he lives in the same swanky Great Falls neighborhood of suburban DC, which is home to a number of NFL players, most namely Fred Smoot, Clinton Portis, and Shawn Springs, of the Redskins.
Here are just a few of the amenities as told from one of the members of the work crew who built it:
1) The imported stones made of granite form a gigantic mountain with a fully functioning waterfall cost nearly $500,000 dollars.
2) The entertainment complex features an underwater grotto which houses a bar, large screen television and 3 gigantic fish tanks valued at another $500,000.
3) The fish tanks feature a number of high priced species of fish, but Gilbert reportedly requested they contain his favorites: 3 full size Bull Sharks.
4) The underwater area has a recessed section with a couch so Gilbert will be able to look up through the bottom of one of the tanks to "be able to look at his fish."
5) A giant mural was painted on one of the walls featuring the White House, Capitol Building, Potomac River, his dog, and of course……………..a smiling Gilbert Arenas.
With most of us struggling through job losses and a down economy, it's good to see that Gilbert is getting by on just the bare necessities. The only good news is that with all this free time, we will probably be seeing a few more Gilbert vs Agent 0 videos.
Allen Moll is an avid NBA and College Basketball fan who watches and studies games religiously and coaches youth basketball in his native Lehigh Valley region of Pennsylvania.  Allen is a regular columnist for thehoopdoctors.com, Bleacherreport.com, UpperDeckblog.com, and his own site, Hoops Haven.