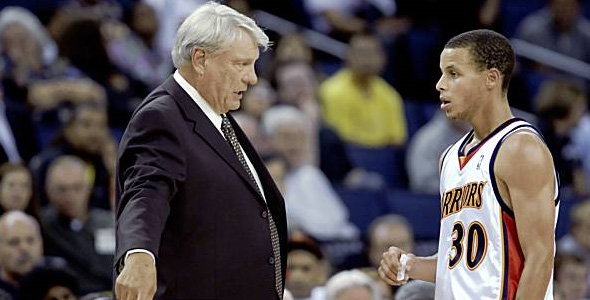 April 5, 2010 – Dr. Dime
Easter Sunday 2010 will not be soon forgotten for Golden State Warriors Coach Don Nelson. It was not only the day his team got a victory in an exciting game against the Toronto Raptors, but more importantly was the day he tied the legendary Lenny Wilkens for the record of most career coaching wins.
After the victory in Toronto at the Air Canada Centre, Don Nelson celebrated his 1,332nd coaching victory with his team. Raising his arms in seeming relief, his team danced around him, pouring water on him before they lifted him up. You could see the joy in the face of a coach who is as stern as they come during games, but also known to be as funloving and caring as they come away from the game.
With a little unintentional help from Chris Bosh on a missed shot as time expired, they got one step closer as Nelson tied Lenny Wilkens for most wins by an NBA coach in a thrilling 113-112 victory Sunday evening in Toronto.

Long after the buzzer sounded and replays flashed on the jumbotron, Bosh was still kneeling facedown on the court, physically exhausted after pouring in 42 points and 12 rebounds, emotionally exhausted after his team failed to get a win to help them in their race for the playoffs as the season winds to an end.

"What a game to tie the record, huh? Unbelievable," Nelson said. "It had about everything you'd want, from good to bad to playing great to wetting the bed and we did about all of it. Somehow we prevailed."

Nelson was swept up by his team, his players embracing him, pouring water on him and dancing with him as they celebrated the victory. Curry finished just two rebounds shy of a triple-double, finishing with 29 points, eight rebounds, 12 assists and three steals. {Via}