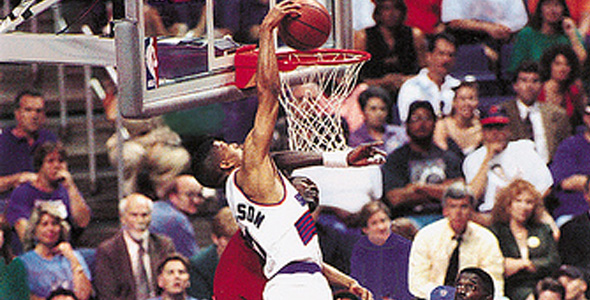 March 10, 2010 – Kevin Burke
A few nights ago, Deron Williams both surprised and posterized Derrick Rose with a very sneaky fast break dunk. Is it me, or does it seem like these smaller guards are climbing the ladder more often. Although Derrick Rose isn't a big man in basketball terms, for some reason that dunk got me thinking about the all- time best smaller guard dunks on big men. There are many to choose from, so I had to think long and hard. Here are my top 5 all-time smaller guard dunks on big men.
#5 – Chris Paul catches Dwight Howard. Very cruel.
#4 – Baron Davis over Jermaine O'Neal. Mean and Vicious.
#3 – Marcus Camby gives Allen Iverson a piggy-back ride. Not nice at all. (skip to :38s mark)
#2 – Baron Davis strikes again. Victim: Andrei Kirilenko. Just plain ol' hurtful.
#1 – Kevin Johnson on Hakeem Olajuwon. Very disrespectful.
Stay tuned for my top 5 all-time game dunks, period.
If you're looking for your everyday, predictable basketball talk, then go somewhere else, because Kevin Burke of The Kevin Burke Project brings provocative, thought provoking content about basketball as only he can. Kevin also hosts The Hoop Doctors weekly podcast show, which you can subscribe too for free on iTunes.