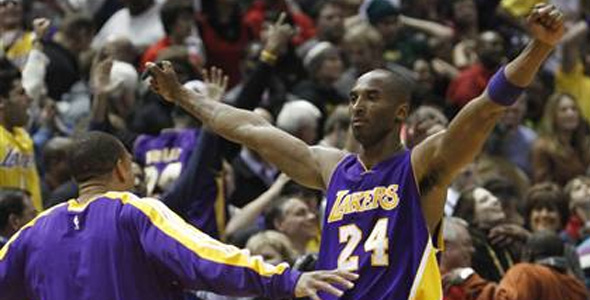 March 10, 2010 – R.S. De France
Even if the Lakers had lost to the Toronto Raptors, there would still be no need to panic.  The Lakers, though, were victorious, despite their lapses defensively, beating the Raptors 109-107 on another late Kobe Bryant jumper.  This time he hit a gorgeous
17-foot baseline fade-away over the helpless Wright.
Yes, the Lakers have lost three out of their last four, but two out of the three losses were by a total of five points.  Besides, this was the Lakers' only three game losing streak since they acquired Pau Gasol, including the playoffs.  His record as a Laker is 152-48, which is a .760!
The Lakers are fine.  All great teams have to be challenged and this is only the beginning.  These playoffs will be even tougher this season with improvements to the Dallas Mavericks, the development of the Oklahoma City Thunder, and the rising of the Phoenix Suns.
While the Lakers have racked up some recent losses, they had opportunities to win most of those games.  And Kobe has been flat brilliant this season.  This shot with 1.9 left in the game adds to his list, a list including 6 game-winning shots this season with 10 seconds or less remaining in the game.
Here are a couple of my favorite Kobe-game winners of this season:
v. Miami
v. Sacramento
Clearly, the Lakers still have not found their rhythm or balance with Bryant re-entering the lineup after missing five games.  But, there is a lot the Lakers can learn from these losses, in particular the importance of valuing every possession, playing tough defense, and playing as a team both offensively and defensively.
Coach Phil Jackson, Kobe Bryant, and Derek Fisher need to take the lead, as usual, and show the other Lakers the kind of determination and grit it will take for this team to repeat this season.
R.S. De France is a College and University instructor of English Composition. He has a B.A. in English and an M.A. in Rhetoric, Composition, and Writing. One of his life-long pursuits has been writing and covering anything related to sports, specifically the NBA. Recently, De France, his wife, and another colleague started an internationally read magazine at Shwibly.com.