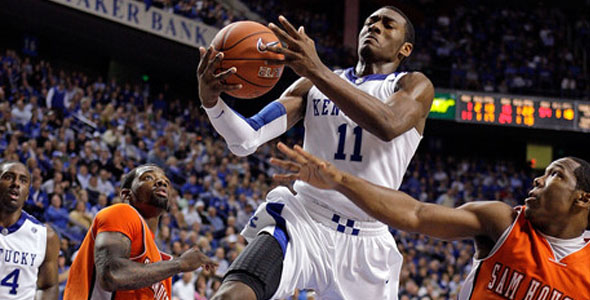 March 22, 2010 – Kevin Burke
Believe me. I know that sounds blasphemous, but hear me out.
Every so often a high school talent gets much praise for dominating his opposition. He is usually faster, quicker and more athletically gifted than his counterparts. The most recent such phenomenon was Kentucky's John Wall. Wall's high school highlights are nothing short of disgusting. He looks like a man amongst boys. But, I haven't quite seen that translate to the college level in the same manner I saw it in high school.
I've felt this way about Wall for a while, but I wanted to let the season ride out a bit more before I decided to write about it. I heard his name long before I ever saw him play. He had LeBron James hype coming out of high school, and deservedly so. His first couple of games as a Wildcat drew much attention and praise. But, as the season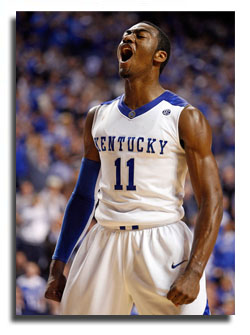 progressed, I noticed that his highlights were mainly open-court finishes and a few fancy passes. Therefore, I decided to tune into a handful of games during the season to judge for myself.
I did so Saturday night as well to see Kentucky take on Wake Forest. In the first half, Wall hit a couple of wide open 3s and had a few nifty assists. Solid, but nothing earth shattering. Then the second half began and I had to listen to Jay Bilas go crazy about John Wall's non-so-spectacular first half (And I really like Jay Bilas. I think he's the best in the business at breaking down college basketball. He is the Kenny Smith of college analysis, but tends to overhype guys sometimes). I was actually more impressed with Wake Forest's PG Ishmael Smith than I was with Wall (If Smith could finish around the cup, the game would've appeared closer than it was). Wall is excellent in the open floor because he can jump out of the gym, and his court awareness is the best part of his game. He is a very good passer, but he can't really score in a half court set. Don't get me wrong, I'm not saying he's a bad player. He is very talented, but I just don't see how he is Player of the Year / #1 overall pick in the draft material. I think both of the those distinctions should go to Ohio State's Evan Turner. Turner is far more impressive to me.
He was initially compared to another John Calipari freshman of a few years ago: Derrick Rose. In my opinion, Rose was a better player as a freshman. Rose found ways to score in the half court set and was more fundamentally sound. Wall is more raw than Rose was. Again, don't get me wrong. Wall can definitely play, but I just don't quite see the hype that everyone else seems to.