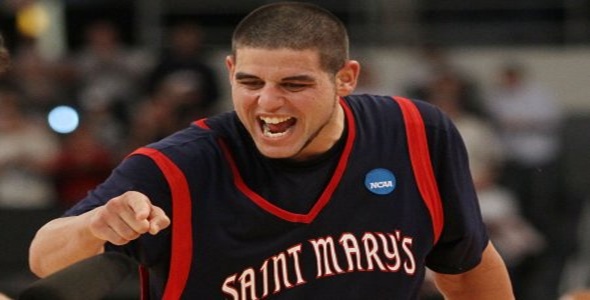 March 25, 2010 – Allen Moll
This year's NCAA Tournament has been as exciting as any in recent memory up to this point, by giving us a number of buzzer beaters. Cinderella stories, and catchy new player names like Farokhmanesh and Samhan. But now that we have reached the round of 16, can these upstart would be contenders continue their magical post-season runs all the way to the Final Four in Indianapolis?
Northern Iowa Panthers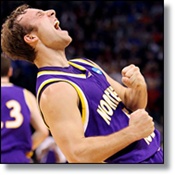 After having not won an NCAA Tournament game in the past 20 years, then winning 2 more in only 3 days last weekend, the upstart Panthers from the Missouri Valley Conference have been the darlings of the tourney by knocking off UNLV and #1 overall seed, Kansas. Behind a player, who's name we all have grown to love, Ali Farokhmanesh, UNI are taking out their frustrations of being a #9 seed on it's opponents. Although the Panthers have won two games by a combined 5 points, they are one of the most efficient clubs offensively still left in the tourney. Possessing clutch shooting from Farokhmanesh from the perimeter and a punishing 7 foot, 300 lb big man in the paint who has 3 point range, in Jordan Egelseder, along with an experienced and talented supporting cast consisting of 2 straight Missouri Conference POY's is the perfect combination for a run at the Final Four. Now they must face another experienced team in Michigan State who is accustomed to deep tourney runs but come into their match-up limping with their All American point guard Kalin Lucas gone for the season with an Achillies tear. The situation seems perfect for UNI to slip past the wounded Spartans into the Elite 8 setting up another David Vs Goliath match-up with either Tennessee or Ohio State.
St Mary's Gaels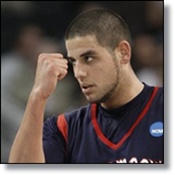 Perhaps the most fun team to watch in this tourney has been the tiny school from the West Coast Conference, the St Mary's Gaels. After coming up short against conference giant Gonzaga for the past few seasons, the Gaels behind enigmatic coach Randy Bennett, have burst onto the national scene and appear to be having fun doing it. Behind perhaps the most talented under the rim player in the entire tournament in Omar Samhan and a bevy of sharpshooting perimeter players, the Gaels have knocked off the A-10's Richmond Spiders and Big East powerhouse Villanova, and they made it look easy. By averaging 30.5 ppg, 10 rebounds per contest and making over 75% from the field, Samhan has arguably been the tourney's most tough to defend big man behind an old school arsenal of low post moves that would make the Celtics' Kevin McHale proud. He is a marvel to watch for fans of the drop step and up and under moves. It's a pick your poison proposition trying to defend the dominating Samhan since if double teamed, he simply kicks the ball out to a bevy of 3 point marksmen led by Mickey McConnell, Matt Dellavedova, and Ben Allen, who ranked among the best teams in the nation in efficiency behind the arc. Defeating an equally or more talented Baylor Bears squad from the Big 12 is a daunting task considering that the Bears have much more depth up front in the 6'10 shot blocking Epke Udoh, 7'0 Josh Lomers, and 6'10 Anthony Jones. After all, Udoh ranked 5th in the nation in blocks at 3.8 per game. They can also throw the 6'7 Quincy Acy as a help defender at Samhan as well. A talented backcourt of Tweety Carter and LaceDarius Dunn may help to neutralize the Gaels open looks from the perimeter. Watch for the Gaels' 6'7 lengthy forward Clint Steindl to possibly be an X-factor. It's a toss up, I like Baylor in a close game. If St Mary's could pull off another big win, surely Purdue or Duke would prove too strong for a mid-major, right?
Cornell Big Red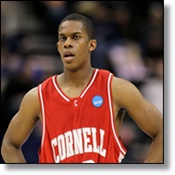 If you ask the Big Red players or coaching staff, they dispel their Cinderella label and actually expected to be making a deep NCAA Tournament run after making it to the Big Dance the previous 2 seasons with the same core group of players. And after successfully dismantling 2 of the NCAA Top 20 ranked defenses in Temple and Wisconsin, Cornell probably believes that they can beat the hulking Kentucky Wildcats awaiting them on Thursday. Although they have excelled at playing both an uptempo and a half court type of games, they are facing a talented and big team in Kentucky that they have never faced before. It's true that they nearly beat Kansas and Syracuse early in the season but the Wildcats posses a number of match-up problems that could pose a ton of problems for the Big Red. Even though they are the nation's best 3 point shooting team, they do not possess the athletic or slashing abilities of John Wall and Eric Bledsoe, nor do they have the dominating inside presence to defend DeMarcus Cousins or Daniel Orton, with all due respect to Cornell's talented 7 foot center, Jeff Foote. It's a very weird game to predict since it could either be the most lopsided win of the round for Kentucky or the biggest upset of the entire tournament. Go with Kentucky since virtually no team in all of college basketball(or half of the NBA's Eastern Conference) have as much talent as this year's Wildcats.
Washington Huskies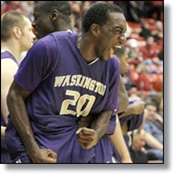 The Huskies had a difficult road just to get to the NCAA's since they had to beat their conference rival, California Bears in the Pac-10 Conference Tournament just to get an invite to go "dancing." Now that they are here, they don't seem to want to go home just yet. After getting by Marquette in the first round behind a 10 foot buzzer beater by Quincy Pondexter, Washington easily took care of Steve Alford's New Mexico Lobos by 18 points, asking which Huskies squad will show up against the 2nd seeded West Virginia Mountaineers in the Sweet 16? The Match-up just got a little more interesting with news that WVU point guard, Darryl "Truck" Bryant broke his foot in practice earlier in the week, forcing back-up Joe Mazulla and Da'Sean Butler to take over ball-handling duties. while both teams have equally potent offenses led Washington's Isiaah Thomas and Pondexter, and WVU's Butler and Devan Ebanks, defense and game tempo will make the difference in who wins or loses. Washington likes to get out and run behind their intense pressure defense. Not having their natural point guard won't help in this game for Coach Huggins' Mountaineers. In the end, WVU has too strong of a front-court and should dominate the glass. if WVU can keep the game in the 70's or lower, it should be easy sailing into the Elite 8 or more.
Allen Moll is an avid NBA and College Basketball fan who watches and studies games religiously and coaches youth basketball in his native Lehigh Valley region of Pennsylvania.  Allen is a regular columnist for thehoopdoctors.com, Bleacherreport.com, UpperDeckblog.com, and his own site, Hoops Haven.