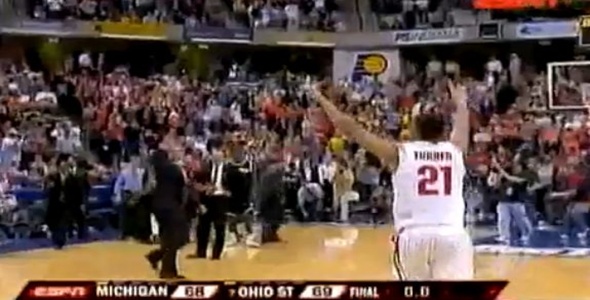 March 13, 2010 – Allen Moll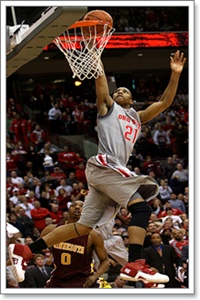 Ohio State junior, Evan Turner, continues to bolster his resume in hopes of winning the Naismith Award, which is given annually to the best player in college basketball. He undoubtedly is neck and neck with Kentucky's John Wall in everyone's Player of the Year Rankings. He may have moved to the top of the list after coolly hitting a 37 foot buzzer beating bomb from nearly half-court in Friday's Big Ten Tournament semi-finals, leading his Buckeye squad to a 1 point victory over the Michigan Wolverines, and essentially ending their chances of making a return trip to the NCAA Tournament.
Turners long range game winner, spoiled a spirited effort by Michigan's Manny Harris, who hit a 2 point jumper from the right elbow, with 2.2 seconds remaining, to give the disappointing Wolverines a 2 point lead with only a few precious ticks remaining. Harris, who finished 4th in the Big 10 Conference in scoring during the regular season, had 26 points to lead all scorers in a losing effort. Turner struggled through a bad shooting 2nd half(1-8), to tally 15 points and 8 assists to lead Ohio State offensively.
After Harris hit what he thought was the game winner, Turner smoothly dribbled up the court, surprisingly without much defensive pressure from Michigan, and rose up to take the deep 3 point shot as the buzzer sounded. Everyone watched in anticipation as Turner stood with his right hand extended after releasing the ball, a la MJ in the '98 Finals against Utah, seemingly knowing that the shot would go in. Swoosh, game over!  Then Turner stood with a blank stare as his Buckeye teammates mobbed him at the 3 point line. Watch as coach Thad Matta almost gets a technical called on him for celebrating too far out of the coach's box. If Ohio State can win the Big Ten Tourney, they still hold out hopes of attaining a #1 overall seed in the NCAA Tournament.
Allen Moll is an avid NBA and College Basketball fan who watches and studies games religiously and coaches youth basketball in his native Lehigh Valley region of Pennsylvania.  Allen is a regular columnist for thehoopdoctors.com, Bleacherreport.com, UpperDeckblog.com, and his own site, Hoops Haven.
Be sure to sign-up and follow Allen, who has been chosen to participate in the 2010 Last Fan Standing College Basketball Elimination Game.  It is a NCAA Tourney game with a twist.  64 of the nation's best sports bloggers were selected, bracket style, with each getting one of the 64 teams in the tournament.  While the writers submit unique and interesting content, fans and followers have the chance to win new laptops, a weekend getaway to the Mirage in Las Vegas during Final Four weekend, or even a trip to see the National Championship Game in Indianapolis.  All you have to do is sign-up at Lastfanstanding.com and continue to visit the site and vote up Allen's articles, starting on Wednesday, March 17th, to win prizes.  The farther he advances in the brackets, the more prizes you could win!