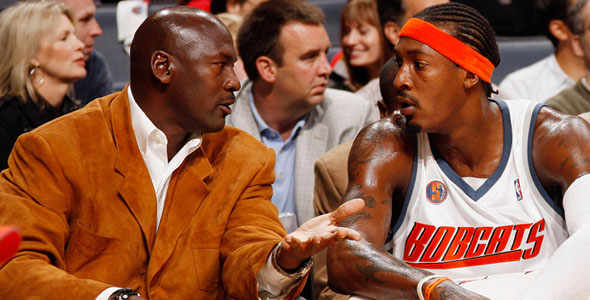 February 27, 2010 – Dr. Anklesnap
We told you in early February that Michael Jordan had less than a month to make an offer to buy controlling interests in the Charlotte Bobcats or he may find himself out of a job. It was quite likely that any other new owner would want to put his own stamp on the team and may not look fondly on Michael continuing to fully run the Basketball Operations.
We truly believe that its good for the league to have the greatest player of all-time and certainly the most recognizable name in all of basketball to continue to be affiliated with the league. That's why we are really excited to hear that as recently as last night, Michael Jordan and his ownership group have come to terms on an agreement to buy the Charlotte Bobcats.
ESPN had this on the deal today:
Jordan has struck a deal to buy controlling interest of the Charlotte Bobcats, putting the six-time NBA champion in charge of the money-losing team in his home state.

Owner Bob Johnson announced in a statement that Jordan was able to put together an ownership group late Friday to buy the team he has been a part-owner of since 2006. Jordan has been running the team's basketball operations.

The purchase price and details of Jordan's ownership group — called MJ Basketball Holdings LLC — weren't immediately available. A spokeswoman for Johnson and a spokesman for Jordan said neither man was available for comment early Saturday.

The league's owners must still approve the purchase.
So the final hurdle will be to get the approval of the league and its owners on the deal. That shouldn't be a problem as Jordan has strong relationships with many of the owners in the league. Not only that but the other owners surely recognize the financial impact Jordan's presence can have on the league. He continues to be a polarizing figure in sports and draws the attention of media, sponsors, and the world. This is good for the league as a whole and good for the economics of the sport.
MJ has taken a lot of heat for his executive decisions while in Washington, but he has certainly begun to redeem himself in Charlotte since taking over basketball operations. Key player moves and bringing in Larry Brown as Head Coach last summer has the Bobcats this season on the verge of possibly making the playoffs for the first time. At a record of 28-29, the Bobcats currently sit just a half a game out of the last playoff spot, behind Dwyane Wade and the Miami Heat.