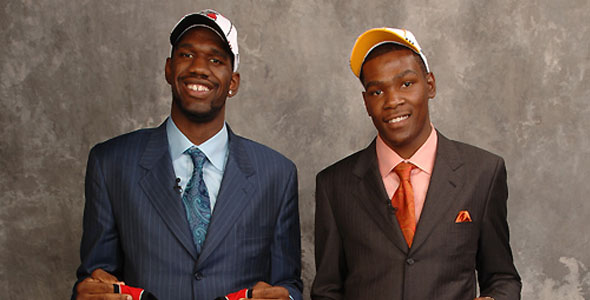 February 26, 2010 – Kevin Burke
Kevin Durant's string of consecutive games scoring 25 points or more came to an end a few nights ago, at 29, against the Spurs. That's the second longest streak in history. Second only to MJ's 40 straight games in the '86-'87 season. Durant is an unguardable scoring machine. When he was a Longhorn, I said that he would be an NBA scoring leader before long. Well, in only his 3rd season, he's about to prove me right. But as Durant has emerged this year, I can't help but think about Greg Oden. Three years ago, I told anyone who would listen that the Blazers should take Durant number 1 and not Oden. People called me crazy.  Imagine where Portland would be if they took Durant (although you could make the argument that Durant and Brandon Roy couldn't coexist). The verdict is in by the way, Oden is officially a bust.
I labeled him a bust last year, but I was told my opinion was premature. I don't think so anymore. As you know Greg Oden is done for the season after fracturing his left knee cap against the Rockets on December 5th. This is added to the long list of injuries he's had in his short career. He missed his entire rookie season after undergoing microfracture surgery on his right knee. This now means that he'll have 2 surgically repaired knees that will be supporting a 7 foot frame. That's not a good combination.
I wasn't high on him coming out of Ohio State. I didn't understand the love affair with him. His best basketball skill was that he is tall, and that's it. Despite missing his entire rookie season, Oden played in 61 games last year. I was surprised he made it that far. And now this. He is definitely injury prone. No doubt about it. But take his affinity for injuries away, and he's still not that talented of a player. His offense makes Dwight Howard look like Hakeem Olajuwon. He rarely cracks double digits in points or rebounds, and is always in foul trouble.
Video:
I don't wish injuries on anyone, but I think it's safe to say he's a bust. But where does he rank on the all-time bust list? I think it's time to start including him in this conversation. He is along the lines of Same Bowie. Is it ironic that they were both drafted by Portland? Let's not forget about Michael Olawokandi or Kwame Brown either. But for as much hype that he received coming into the league, I'd put him at the very top of the bust list because people were acting as if he was the next best thing. I didn't think so then, and definitely don't think so now. When he returns to the court, and at his very best, I see him being a 7th or 8th guy off the bench, getting about 12-15 minutes a night. If that's what he is, then fine. Let's allow him to be what he is and stop trying to make him into something that he clearly isn't.
If you're looking for your everyday, predictable basketball talk, then go somewhere else, because Kevin Burke of The Kevin Burke Project brings provocative, thought provoking content about basketball as only he can. For example, I bet you've never heard anyone provide legitimate reasons as to why Tim Duncan may be overrated, so buckle your seat belts and enjoy the ride.