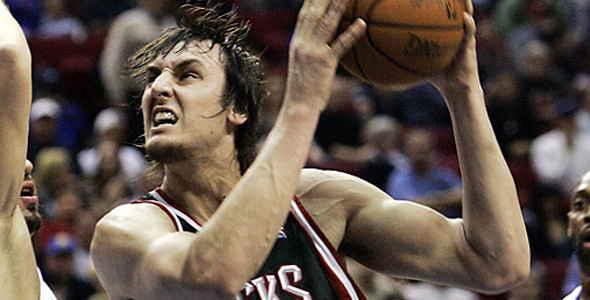 February 22, 2010 – Reece aka 'The Roo'
Covering hoops in Australia is a difficult thing, because the sport gets such limited exposure. The only aspect of the league you can guarantee to be consistently covered is Andrew Bogut. In 2005, Bogut was taken as number one in NBA draft, the first Australian to do so. Since the draft, Bogut's career has been riddled with underachieving and injuries. Andrew Bogut is not going to be as good as he is supposed to be. At least that's the story we should be hearing. In Australia we are drilled about Bogut's 15 point 8 rebound performance that has once again proven he is among the elite of NBA centres and how despite his excellent events Milwaukee is slumping. If this sounds exaggerated, do you want to hear an example? When Brandon Jennings scored 55 early in the season, the news made no mention of it whatsoever, oh but they did include Bogut's box stats.
I'm not saying we should think less of Bogut globally. While he is hardly an elite centre, his name was somehow omitted from All-Star reserves debate, which was really surprising. He's averaging a respectable 15 points and 10 rebounds this season and while it's a stretch to make Dwight Howard comparisons, I think there should of been more whispers about how close he was to a reserves place, keep an eye on him because he is rapidly improving and on the rise.
Don't take this the wrong way and think I believe he should've got the nod from Stern over David Lee, but the silence from Milwaukee spoke for itself. What do you think? Should Bogut get more recognition or is there someone else you think is underrated? Leave a comment and let me know!
Reece is an Australian student currently spending his time split between studying and following the NBA coverage received in his nation.