January 15, 2010 – Dr. Anklesnap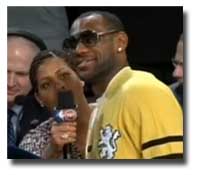 Dr. J. Dominique Wilkins. Michael Jordan. Vince Carter. Kobe Bryant. All of these great NBA players at one point or another challenged for the fan vote of the greatest dunker of all-time. Why? Because they put on electric performances in NBA All-Star Weekend Slam Dunk Contests.
But the most obvious name missing from that handful of great dunkers, is Lebron James. Personally, based on sheer athletic ability, I believe Lebron James has an opportunity to best all of those greats and become the greatest Slam Dunk Champion ever. But there is a catch. He has to actually compete in a Slam Dunk Contest, for which he has yet to do during his career.
Fans league wide were salivating at the though of King James in a dunk contest when he made this announcement last year during a break in the action at the 2009 NBA Slam Dunk Contest:
LeBron's Dunk Contest Proclamation from Turner Sports on Vimeo.
But as of this week, regardless of the fan expectations, Lebron James has been telling the media he's only about a 50/50 on whether or not he'll throw his name in the ring to compete in the 2010 NBA Slam Dunk Contest during All-Star weekend in Dallas next month.
Due to his star power alone, if Lebron James enters the contest, the world-wide viewership for the contest will instantly double. Given the contest the last couple years has been loaded with gimmicks and rule changes in an effort to reinvigorate fan excitement, Lebron James participation would be just what Dr. David Stern ordered. And if not The Commish, then Kenny Smith and Charles Barkley certainly had a strong opinion for Lebron this week:
EJ, Charles and Kenny urge LeBron to compete in the Sprite Slam Dunk from Turner Sports on Vimeo.