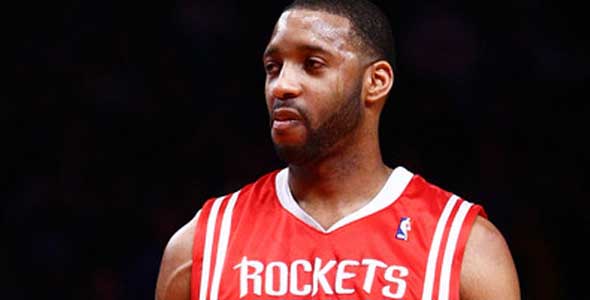 January 5, 2010 – Allen Moll
Allen Moll is an avid NBA and College Basketball fan who watches and studies games religiously and coaches youth basketball in his native Lehigh Valley region of Pennsylvania. Allen is a regular columnist for thehoopdoctors.com, Bleacherreport.com, UpperDeckblog.com, and his own site, Hoops Haven.
With the Tracy McGrady/Coach Rick Adelman situation apparently at an impasse, T-Mac has been granted an indefinite leave of absence from the Rockets, while management decides on where and for who they decide to trade him. Are the Rockets justified in their actions or are they acting off of hurt feelings over lost money paid to McGrady for the number of missed games over his tenure with the franchise? One thing is for sure, T-Mac has likely played his last game in a Rockets uniform, so where is he most likely to wind up?
1) NY Knicks

This rumor has been floating around for some time now since McGrady first voiced his displeasure of not being activated during the early part of the season. Even though the Knicks are stock-piling cash to be prime players in the 2010 Summer of free agency, the Knicks would be willing to take on T-Mac's monstrous $23 million dollar price tag since it would come off the books at the end of the season. Attempting to re-sign McGrady at a much lower amount before the end of the season would undoubtedly help to entice one of the impending free agents next Summer to play alongside one of the game's most dynamic players. The Rockets would be forced to take back in return either Jarred Jeffries or Eddy Curry's bloated contracts in return, both of which have killed the Knicks ability to make deals to improve their current roster in this throw-away season. Another team may be needed to match-up all the high salaries. Imagine seeing Lebron, McGrady, and John Wall playing for the Knicks next season?
2) Chicago Bulls
It is well known around the league that the Bulls are primed to rebuild their roster after such a disappointing season centered around Derrick Rose and Joakim Noah. Tyrus Thomas is the name that has been floated around as trade bait since the Bulls are apparently happy with the improvements of Noah and rookie Taj Gibson in the front-court. Plodding big man, Brad Miller, and his $12 million dollar contract as well as Jerome James' $6+ million would have to be accepted by the Rockets in a trade, which would be rather tough to swallow. Re-signing McGrady past this season would also be beneficial in luring Chicago native son, Dwyane Wade and other free agents, to come home and play for the Bulls next season. A 1-2-3 punch of Rose, Wade, and T-Mac would have Bulls fans foaming at the mouth.
3) Philadelphia 76ers

Although the Sixers have brought in two aging veterans in recent seasons in Elton Brand and Allen Iverson to provide leadership to their talented young core of players, it just hasn't worked this season, with the squad wallowing near the bottom of the Eastern Conference standings. With the cash strapped Sixers stuck with some of the league's worst long term contracts in Brand and Sam Dalembert, the 76ers have been rumored to be shopping the two under-achieving frontcourt players with virtually no takers. With T-Mac suddenly available, the Sixers have shown some interest in offering leading scorer Andre Iguodala in a package for the 2 time scoring champ. Although Iggy is one of the league's best athletes and one-on-one defenders, he is destined to be a #2 option in the mold of a Scottie Pippen to Jordan mold. The idea of T-Mac playing alongside longtime personal friend Allen Iverson, has to be enticing for the former Rockets franchise player. It makes sense as long as the Sixers wouldn't have to give up a number of their bevy of young talents like Marreese Speights, Lou Williams, or Thaddeus Young. Even if it would be just for this season, the Sixers would be out from under all the long term contracts, giving them money for free agents, and getting a Top 5 pick on the '10 NBA Draft.  Just think, the Sixers could have the starting backcourt for the Eastern Conference in the All Star Game!
Of course all of these scenarios hinge on how much McGrady still has in the tank. Reportedly, the Rockets are willing to take their time and wait until the All Star break to receive the best offer. Rockets management also has stated that they are unwilling to just give away T-Mac for nothing. They want serviceable-able players and possibly draft picks that will produce in the near future.
Are the Rockets asking for too much for a 1 year rent-a-player with a pro rated $23 million dollar price tag and glass knees?