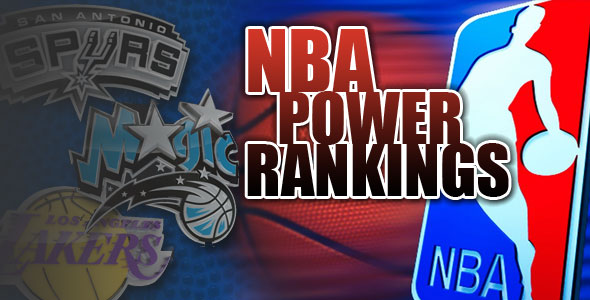 January 21, 2010 – Chip Patterson
Chip Patterson, recent graduate of University of North Carolina – Chapel Hill, writes for TheHoopDoctors.com and serves as Basketball Editor for BusterSports.com.
NBA Power Rankings
| | |
| --- | --- |
| 1 | |

Cleveland Cavaliers

The one point loss in Salt Lake City is no reason for any kind of concern.  Cleveland is still clicking on all cylinders.  The only real question is  who gets dealt in this apparently inevitable trade and how the Cavaliers adjust to a personnel change.

| | |
| --- | --- |
| 2 | |

Los Angeles Lakers

This really should be 1 and 1A for the power rankings.  The Lakers and their three game winning streak have vaulted them back into the argument for best in the league.  Thankfully the entire nation will get to watch this get settled tonight on national television.

| | |
| --- | --- |
| 3 | |

Denver Nuggets

Lawson is back from an ankle injury and now the Nuggets are running a dual point guard lineup that will give teams fits.  J.R. Smith, Aaron Afflalo, and Birdman make for a nasty reserve lineup as well.

| | |
| --- | --- |
| 4 | |

Dallas Mavericks

Dirk shoulders must be getting worn down, because he literally will carry this team at time.  My new X factor here is Eric Dampier.  When he is clogging up the lane on offense and defense the entire offense moves much better.  When he is in foul trouble and not being active on the glass, the Mavs are quite stale.

| | |
| --- | --- |
| 5 | |

Boston Celtics

Garnett is practicing on that knee, cautiously.  So the rest of the Eastern Conference prays, cautiously.  I'm not saying that Garnett will make or break this team…I firmly believe that they are still a playoff team without him.  But not having him in the lineup has meant even more minutes for bench guys who aren't used to carrying this load.

| | |
| --- | --- |
| 6 | |

Atlanta Hawks

The Hawks recent hot streak continues as now it grows to 4 of the last 5.  They are playing solid defense and hitting from the outside.  Close to jumping the Celtics for 2nd best in the East, but as usual I'm keeping those pesky Celts jussssst out of reach.

| | |
| --- | --- |
| 7 | |

San Antonio Spurs

Dropping 3 of their last 4 is no way to be ending the first half of the season.  Outside of getting SMASHED by the Bobcats on Friday, they aren't playing that poorly – just not as good as they could be.  Hoping this is just a funk, maybe somebody forgot to refill everyone's S M T W TH F S case in the senior center Spurs locker room.

| | |
| --- | --- |
| 8 | |

Portland Trailblazers

Brandon Roy's hamstring is starting to really kill the Blazers.  If he can't get healthy soon, there are some very probable losses that Portland will pick up in the next two weeks (Boston, Utah, Houston, Dallas).  Most of those being conference games that they cannot afford to give up tie breakers to in the super-competitive West.

| | |
| --- | --- |
| 9 | |

Orlando Magic

The Magic were thrilled to see their home court after losing the last three games on their most recent road trip.  Even though they played challenging competition, they still did not look very in-synch.  SVG doubled his order of tums for each game.  And chicken wings, most likely.

| | |
| --- | --- |
| 10 | |

Oklahoma City Thunder

They matched last year's win total on Wednesday night with their win over Minnesota, in the third week of January.  The Thunder have not just turned it around in the big picture but are extremely hot right now in the midst of a three game win streak.

| | |
| --- | --- |
| 11 | |

Phoenix Suns

Four straight losses has Suns fans confused and the Amare trade rumors heating back up.  He will likely be announced as the starting center for the West later today, let's see if it invigorates the organization – or just draws more attention from potential trade candidates.

| | |
| --- | --- |
| 12 | |

Houston Rockets

Just when you think that this team's will has finally broken, they keep coming up with enough wins to stay in the Western playoff hunt.  They are doing it all with no Yao and no T-Mac.  That will is going to be tested in the next week with games against San Antonio, Atlanta, and Denver.  We'll see where they fall next week.

| | |
| --- | --- |
| 13 | |

Utah Jazz

Impressive wins last week against Cleveland, Milwaukee, and taking down San Antonio on the road.  The Sundiata Gaines story has been a fantastic one to follow.  Hopefully the Jazz make the playoffs and he drops another another game winner in May.

| | |
| --- | --- |
| 14 | |

Charlotte Bobcats

A few little known facts about the Bobcats: They currently own the NBA's longest winning streak at 6, they are 9-1 in their last 10, they have 9 straight wins at home and more home wins (18) than anyone else in the Eastern Conference.  Let's see what happens when Orlando comes to town…

| | |
| --- | --- |
| 15 | |

Miami Heat

Another 2-2 week for the Heat as they continue to hang out with .500 like they are boys from back home.  I have a gut feeling this will be the theme of the 2nd half of the season as well and they will end up being a very dangerous 5 or 6 seed.

| | |
| --- | --- |
| 16 | |

Toronto Raptors

After being touted as one of the hottest teams in the Association last week, losing both ends of a back-to-back seems to have fizzled the Raps' hype.  But that has not fizzled the confidence inside the locker room at all.  They catch the Lakers at a weak point on Sunday (playing their 3rd road game in 4 days) and might be able to steal one.

| | |
| --- | --- |
| 17 | |

New Orleans Hornets

Tuned into the Hornets-Grizz game on Wednesday night to see how these two streaking Western teams looked pitted against each other, and was treated to a real show.  The 113-111 Hornets win gives them the edge this week, but everyone should be scared of how well and FAST both of these teams are playing right now.

| | |
| --- | --- |
| 18 | |

Memphis Grizzlies

Ditto.

| | |
| --- | --- |
| 19 | |

Chicago Bulls

The Bulls have been hit by the flu-bug pretty hard in the last week.  What makes me sick to my stomach is that they have just now decided to start utilizing all of their weapons, just in time to most likely not get themselves out this giant ditch.  However, it's the East, so you never know…

| | |
| --- | --- |
| 20 | |

New York Knicks

The Knickerbockers have come a long way since the New York metropolitan area was such a sad place for basketball.  They have left their across-the-river sisters at the bottom of the rankings and finally gotten it going and are…wait…1.5 games out of the 8th seed in the East? /throws coffee on face.

| | |
| --- | --- |
| 21 | |

Los Angeles Clippers

With Kaman healthy again (hopefully for a while) the Clippers have a lineup that are 8-3 when they start together.  The pep and thrill is back in the Staples Center for the "other LA" and if you haven't gotten a chance to catch a game, I suggest you do.  This particular gang is fun to watch.

| | |
| --- | --- |
| 22 | |

Milwaukee Bucks

The return of Jerry Stackhouse brings a smile to NBA old timers everywhere.  In a postgame interview after his first game he claimed he was able to stay in shape thanks to P90X.  Currently googling and considering an order, because that guy looks to be in 100x better shape than me and I saw him play in the Smith Center as a kid.

| | |
| --- | --- |
| 23 | |

Washington Wizards

Wins over Sacramento, Portland, and a valiant effort against Dallas are things that the Wizards should take and try to build on.  Randy Foye appears to be getting a little more comfortable as the full time starter and "life after Gil" needs to go ahead and begin.

| | |
| --- | --- |
| 24 | |

Sacramento Kings

With Kevin Martin back in the lineup, we revert back to the questions of the beginning of the season wondering whether he and 'REKE HAVOC can co-exist.  In my personal opinion, when showing up to a gun fight – it's always better to bring to high powered assault weapons.

| | |
| --- | --- |
| 25 | |

Golden State Warriors

Monta Ellis continues to play these 48+ minute games and never get tired.  Is this guy ever going to slow down?  Speaking of co-existing, he and Curry seem to be doing just fine sharing the backcourt.  Turiaf's return will be good news, because Chris Hunter and Tolliver just aren't getting it done inside.

| | |
| --- | --- |
| 26 | |

Detroit Pistons

Rodney Stuckey is finally showing flashes of last season when he realized what his frame and skill set could do on the floor.  But no matter how many dynamic performances the bulldog-esque player from Eastern Washington throws together, they still will not be winning unless they are all healthy.

| | |
| --- | --- |
| 27 | |

Indiana Pacers

Granger comes back early and looks like he hasn't missed a beat.  Unfortunately, the rest of the Pacers team missed a couple of songs while he was gone.

| | |
| --- | --- |
| 28 | |

Philadelphia 76ers

Win some, lose a bunch.  Win some, lose a bunch.  No way to try and improve morale on an already crippled team.  Maybe they ship somebody out/in before the deadline.  Hell, couldn't hurt.  Right?

| | |
| --- | --- |
| 29 | |

Minnesota Timberwolves

Jerry West said recently that he was in favor of NBA contraction.  Well Jerry, that's a fantastic idea.  I have found the first team to disassemble.  Free the Wolves!  This team has so many talented players who would completely change another squad if they joined as a 3rd or 4th option.  Ideas folks, these are ideas.

| | |
| --- | --- |
| 30 | |

New Jersey Nets

It's really time that the Nets start doing some serious Flint Tropics style promotions to offset the losing.  Wild giveaways, crazy stunts with zoo animals, and corn dogs.  Corn Dogs, for everyone.