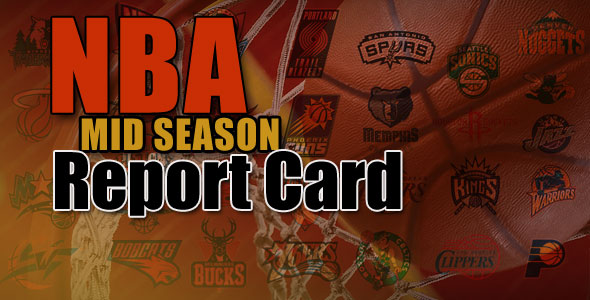 We crossed the half waypoint of the 2010 NBA season and there are some pleasant and not-so pleasant surprises. Along with the good and the bad, there have been teams that have failed preseason expectations and even more teams that have exceeded preseason expectations.
Some teams are starting to play their best ball, some already have, and some are saving it until April and we will break down how each team did in the first half and what we can expect in the second half.
Atlanta Hawks
(29-14, first place in Southeast Division and third place in Eastern Conference)
The Atlanta Hawks have exceeded most people's expectations because no one thought they could win this division. Nearly all the experts, including yours truly, had the Magic running away with the division and conference crowns but the Hawks are putting up more than just a fight. ATL is 3-0 against conference rival BOS but 0-2 against the division rival Magic and look for this division to go down to the wire.
The Hawks might make a deal to get more athletic at the SF position but nobody wants Marvin Williams' contract but with this stacked roster, it might be hard for Joe Johnson to leave via free agency next season.
Josh Smith is having an unbelievable season averaging 15 PPG, 8 RPG, 2 BPG, nearly 4 APG, and shooting a career high 51%.
Mike Bibby has been dreadful all season long, averaging only 9 PPG and 4 APG; and his brand new three-year deal cannot end quickly enough.
Grade: A.
Job well done by GM Billy Knight assembling this roster but the hardest part might be trying to resign Joe Johnson this off-season, along with trying to trade Mike Bibby's and Marvin Williams' horrible contracts.
Boston Celtics
(29-13, first place Atlantic Division, second place Eastern Conference)
The Celtics hit a bump in the road when All Star Kevin Garnett went down with an injury. KG missed ten games in January and is not the player he used to be but he is still vital to Boston winning it all. The Celts went 4-6 without KG and will look to keep their aging veterans healthy until April when the real season starts.
The bench will get deeper when Marquis Daniels comes back early next month but the team could use some more depth to help the aging veterans.
Grade: A.
The scary part about this team is it could all fall apart with injuries. KG could go down at any moment and Paul Pierce is always battling injuries. Rondo's young legs should be OK but Rasheed will always be a question mark. Ray Allen is always in phenomenal shape and will be sniping in April.
Charlotte Bobcats
(21-22, fourth place in Southeast Division, eighth place Eastern Conference)
The Bobcats got hot in January winning their first nine of ten games but have recently lost three in a row to three of the best teams in the NBA (ATL, ORL, DEN). The Cats made a great move trading for Stephen Jackson, who is now their leading scorer, but they need to get more from their three headed monster at the Center position.
CHA owes seven years and more than $55 million to Tyson Chandler, Nazr Mohammed, and DeSagana Diop, which is awful management, and look for the Bobcats at least try to rid themselves of those contracts as the deadline nears.
Gerald Wallace should be an All Star and look for the Cats to try to deal everyone but Wallace and Jackson at the deadline. It looks like this will be D.J. Augustin's team next season, which will make the Cats worse.
Grade: C.
I predicted the Bobcats to make the playoffs before the trade for Stephen Jackson, and they currently sit in the eighth spot in the East. There is no reason this team should not be the eighth best team in the East and look for them to make a deal that will propel them into the playoffs.
Chicago Bulls
(21-22, second place in Central Division, seventh place in the Eastern Conference)
After what we saw in last season's playoffs the Bulls were one of the teams everyone thought would start to make some noise this season. A sluggish start due to a nagging Derrick Rose injury has kept the Bulls under .500 but Rose is healthy and lighting up his opponents. Rose is averaging a career high 23 PPG this month, along with 6 APG and 4 RPG, and CHI is winning because of him (8-5 in January).
The Bulls will be feverishly trying to trade Tyrus Thomas and Kirk Hinrich until the February deadline but most teams are insecure about Thomas' free agency next season and Hinrich is making way too much money. The Bulls have great cap space next season and will not jeopardize their future by acquiring a big money player this season unless he is a free agent next summer (Carlos Boozer or Amar'e Stoudemire).
Joakim Noah is playing like an All Star and is second in the NBA in RPG. John Salmons is struggling this season, averaging only 13 PPG, his lowest since 2007, and is only shooting 42%, his lowest since 2002.
Grade C.
I expected more out of this team but the roster is completely healthy and look for the Bulls to take that fifth seed from the Heat by season's end.
Cleveland Cavaliers
(35-11, first place in Central Division and Eastern Conference)
The Cavs are rolling but are still looking to upgrade their roster. An injury to Mo Williams will put pressure on Delonte West and Daniel Gibson as both players have slumped all season. Cleveland is also trying to trade Zydrunas Ilgauskas' expiring deal in exchange for a better frontcourt player but they will likely have to include J.J. Hickson.
LeBron James will likely win the MVP this season as he is a one-man band and the Cavs are in control of the NBA right now. CLE has exceeded our expectations and look for them to make a move that will help them this season and will hopefully lure LeBron into signing another long-term deal.
Grade A.
Exceeded our expectations as they currently have the best record in the NBA this season.
Dallas Mavericks
(29-15, first place in Southwest Division, third place in West)
I thought the Mavs were going to be good this season but not as good as they currently are. The roster is filled with aging veterans (Jason Kidd, Jason Terry, Shawn Marion, Erick Dampier, Josh Howard, Drew Gooden, Tim Thomas) but all have played well together and Dirk is having a similar season to when he won the MVP.
Josh Howard has been miserable all season long and has an expiring contract, so look for DAL to start finding potential suitors for the former All Star. Erick Dampier is in the final season of his ludicrous five-year $75 million deal and is having his best season in Dallas since his first year with the team.
Grade: A.
The Mavs are quietly having a great season and are a contender but they will need to beat the Spurs or Lakers in the playoffs to prove that they are not just a regular season contender.
Denver Nuggets
(30-14, first place in Northwest Division, second place in West)
The Denver Nuggets made the Western Conference finals last season and have not skipped a beat this season. The Nuggets are lead by Carmelo Anthony and Chauncey Billups and are getting career years out of both, as they are averaging career highs in PPG.
Billups and Melo belong in the All Star game and Nene should also get some attention. He is averaging 14 PPG and 8 RPG and is one of the keys to beating the Lakers in the post season.
Grade A.
The Nuggets are the second best team in the West and should meet the Lakers in the Western Conference Finals again this season.
Detroit Pistons
(15-28, last place in Central Division, 12th place in East)
It got bad for the Pistons the instant they traded for Allen Iverson. Gone was the leader of their franchise Chauncey Billups and they ended up telling AI to stay away. Billups is now leading the Nuggets to one of the best records in the NBA and the talent less Pistons were pressured into signing Charlie Villanueva and Ben Gordon, two players known for their offense but not their defense.
DET lost 13 straight at one point this season and are destined for the lottery. Joe Dumars' nightmares start with Darko Milicic and Allen Iverson and end with him waking up in a cold sweat thinking about Ben Gordon and Charlie Villanueva playing defense. The Pistons have been ravaged by injury this season as Rip Hamilton has only played in 16 games, Tayshaun Prince 11, and Ben Gordon 25 but even with them the Pistons would not be in the playoffs.
Grade D.
The Pistons are horrible and it is because of a few bad moves by GM Joe Dumars. Dumars is still an above average GM but he has made moves that will hold the Pistons back a few years. Signing two players that do not start for over $70 million is another bad move by Dumars.
Golden State Warriors
(13-29, last place in Pacific Division, 13th in West)
The Warriors are always fun to watch, especially when Monta Ellis is playing 42 MPG and averaging 26 PPG. Ellis, Corey Maggette (20 PPG, 6 RPG, 2 APG), and Stephen Curry (14 PPG and 4 APG) are the only players having good seasons for the Warriors and they have battled injury all season long.
Numerous frontcourt injuries to Ronny Turiaf, Andris Biedrins, Anthony Randolph, and Brandon Wright have lead to the Warriors receiving extra roster spots, which means a lot more losing. The Warriors have become a D-League team this season but they are still a top ten team in attendance destined for the lottery.
Grade F.
Injuries did not help but this team was going to the lottery again no matter what. Until Don Nelson leaves this team will not make the playoffs and all they can pray for is winning the John Wall sweepstakes.
Houston Rockets
(24-20, tied for fourth in the Southwest Division, tied for ninth in West)
A few years ago this was supposed to be the year of Yao and T-Mac but instead it is the year of Aaron Brooks, Carl Landry, and Trevor Ariza. Not exactly international icons like Yao and T-Mac but the three of them are making a name for themselves.
All three of them, and Luis Scola, are averaging career highs in PPG and are leading a team that was supposed to be one of the worst in the NBA to a surprisingly respectable record.
Grade A.
What was supposed to be an awful season for the Rockets is turning out to be a thriller. There are plenty of teams that want T-Mac's expiring contract and he would love to play again this season. Look for HOU to try and find a trade partner until the February deadline, which will improve their team and playoff chances even more.
Indiana Pacers
(16-29, fourth place in Central Division, 11th place East)
The Pacers have an All Star type player in Danny Granger and that is about it. Troy Murphy averages a double double but few teams go into the Pacer matchup with stopping Murphy as a priority. Mike Dunleavy was injured for most of the season and the team si not very talented after that.
Drafting Tyler Hansbrough ahead of Ty Lawson, Omri Casspi, Taj Gibson, and DeJuan Blair was a mistake as he is shooting a woeful 36% FG this season and leading the NBA in getting his shot blocked.
IND will be trying to trade T.J. Ford's expiring deal and Jeff Foster is also a commodity around the league. Luther Head was not in the NBA before signing with the Pacers and the horrible season in Indy will likely only get worse as the Pacers trade off their assets.
Grade F.
A terribly managed team that has drafted poorly in recent years, the Pacers are still at least five years away from being legitimate contenders. But that can all change if they win the lottery.
Los Angeles Clippers
(20-24, third place in Pacific Division, 12th place in West)
The Clippers were supposed to upgrade from last season's debacle but have not seen much fruit from their labors. An injury to top pick Blake Griffin has hurt the team's frontcourt depth but veteran Marcus Camby has surprisingly played in almost single game this season.
Chris Kaman should be an All Star (20 PPG and 9 RPG), Eric Gordon is having a nice second season, and Baron Davis has remained healthy and productive all season long but the Clippers are mediocre defensively.
Grade D.
The Clips face an uphill battle trying to get back to the post season and are in better shape next season as they have plenty of cap space and a team loaded with young talent, which might entice a big time free agent.
Los Angeles Lakers
(33-11, first place in Pacific and West)
Other than the Clippers, everything is OK in LA LA land. Kobe is still as hungry as ever, Pau is healthy and averaging a double double for the first time in his career, Andrew Bynum is averaging a career high in PPG, and Lamar Odom is enjoying his role off the bench.
The Lakers are the best team in the NBA and it looks like they will cruise to the Western Conference title. They have exceeded our expectations as we did not think Kobe would remain this hungry, but he is and the Lakers should win it all again because of #24.
Grade A.
LAL has exceeded our expectations by dominating every night but we have heard they still want to solidify their backcourt.
Memphis Grizzlies
(24-19, third place in the Southwest Division, eighth in the West)
The Memphis Grizzlies are the surprise of the NBA as everyone had them winning the John Wall sweepstakes going into this season.
The season started off on the wrong foot as they signed Allen Iverson and quickly dumped him and his poor attitude. Nobody thought the Zach Randolph experiment would work and it has flourished, as Z-Bo should be an All Star averaging 20 PPG and 11 RPG.
Rudy Gay is an impending restricted free agent next season and is also having a great season, averaging 20 PPG, 6 RPG, 2 APG, 1 SPG. Controversial second year player O.J. Mayo is also having a great season (18 PPG) and Marc Gasol has started to turn doubters (14 PPG and 9 RPG).
The Griz drafted Hasheem Thabeet last season ahead of Ricky Rubio because they believed in their PG, Mike Conley. Conley is averaging a career high in APG but Thabeet is only seeing 11 MPG.
Other rookies like Sam Young and DeMarre Carroll have picked up the slack on the bench and what many people thought would be one of the biggest jokes in the NBA has turned into a surprisingly fun story.
Grade A.
The Griz are a legitimate playoff contender and will battle HOU, NO, OKC, and LAC all season long for the eighth spot in the West. If MEM can sign Gay next off-season, the success will be longer than just this year.
Miami Heat
(23-21, third place in Southeast Division and fifth in the East)
The Heat would be the worst team in the NBA if they did not have Dwyane Wade, and that is how good Wade is.  He carries an entire franchise on his shoulders night after night but that might change next season, as MIA has plenty of cap space.
With very little help from anyone on the team not named Beasley, Wade will likely wear down as the season ends, but this is one of the best players in the world and we should never doubt him. The Heat are not very good and are still relying on production from Jermaine O'Neal but are in the playoffs and will likely make the post season with Wade on the roster.
Grade B.
They have exceeded our expectations and will go into the off-season with two goals: resigning Wade and signing another big time free agent.
Milwaukee Bucks
(18-24, third in Central Division and ninth in East)
The Bucks have exceeded everyone's expectations much like Brandon Jennings has early. Drafted tenth, many teams overlooked Jennings but he is making them pay for it as he is a contender for rookie of the year.
After years of waiting Milwaukee fans are finally getting the production from Andrew Bogut they wanted after drafting him ahead of Chris Paul and Deron Williams. Bogut is averaging a double double and having a career year while only missing six games this season.
Milwaukee's future is now in the hands of Brandon Jennings and Andrew Bogut and the franchise was desperately trying to trade Michael Redd before his season ending injury. The rebuilding will take an extra season and Redd will likely still be on the roster next season but Bucks fans have been waiting forever so what is another lost futile season.
Grade B.
Look for the Bucks to try to trade Redd's contract and desperately try to make the playoffs this season. MIL will likely target a scorer in this season's draft and while the present is much of the same, there is a bright future for the Bucks.
Minnesota Timberwolves
(9-36, last place in Northwest Division and West)
If it were not for one of the worst teams in NBA history, the Wolves would be known as the biggest joke in the NBA. Instead of trying to build a winner, David Kahn drafted four PGs, signed another one via free agency, and quickly traded two of them. Apparently, Kahn thought it would be better to build the future, sacrificing his job and this season.
The Wolves have a nasty froncourt, and needed guard help, but drafting four PGs and signing one is not a smart idea. The Wolves should have drafted a wing, which they are desperately looking for, instead of either Rubio or Flynn.
There are rumors of both big men (Kevin Love and Al Jefferson) not coexisting together and there have been whispers of the Wolves looking for a wing in exchange for one of their bigs. Instead of trading one of their bigs, MIN could have drafted DeMar DeRozan last season with one of their bevy of picks.
Grade F.
A total failure for a team that has a bright future. Nobody wants to defend their frontcourt but poor management put the franchise without an athletic guard or forward. Wolves fans are left looking at the lottery once again and who knows what management will do if they win the John Wall sweepstakes. Would they draft another PG?
New Jersey Nets
(3-40, last place in Atlantic Division and East)
The Nets have become a joke and are seemingly on repeat during Dave Letterman's monologue. NJN is chasing an NBA record for ineptitude and only wins 7% of their games this season. They are currently in an 11 game losing streak but still feature two Dream Team 2012 possibilities.
Coming into the season I did not think the Nets would be the worst team in the NBA for two reasons. 1.) Devin Harris and 2.) Brook Lopez. Harris missed 12 games with an injury and is only averaging 15 PPG his lowest since being a backup on DAL. Lopez should be an All Star this season and is averaging 19 PPG, 9 RPG, 2 APG, and 2 BPG and is the only bright spot for the Nets.
Grade F.
The Nets are awful but could win the John Wall sweepstakes and have plenty of cap space to entice a free agent next season. This awful season could actually benefit the Nets. The NBA, where losing is actually good.
New Orleans Hornets
(24-20, tied for fourth in Southwest and tied for ninth in West)
The Hornets are lead by one of the best players in the NBA, Chris Paul. CP3 does it all with 20 PPG, 11 APG, 4 RPG, and 2 SPG but only gets help from David West, who is having his worst season since 2005.
The Hornets have a lot of bad contracts and will be looking to deal anyone as the February deadline approaches. Emeka Okafor, Morris Peterson, James Posey, Darius Songalia, and Peja Stojakovic are all owned a handful of years and many millions and until those contracts are over, the Hornets will have their hands tied behind their back.
Grade C.
Chris Paul will keep them afloat but as the season closes look for New Orleans to fall back into the lottery.
New York Knicks
(17-26, third place Atlantic Division and tenth place in East)
After a 50 point drubbing a few days ago it is hard to say the Knicks have exceeded our expectations but they really have. We thought they would be worse than last season, and they still might be, but we though they would be considerably worse.
NYK blew their draft pick (Jordan Hill over Brandon Jennings), have an inordinate amount of bad contracts (Eddy Curry, Larry Hughes, Chris Duhon, Al Harrington, Jared Jeffries, Darko Milicic, Cuttino Mobley), but have a should-be All Star, David Lee.
Lee is the only player worth anything on this team but he might leave this summer and the Knicks are still cleaning up Isaiah Thomas' mess. Grade C.
Oklahoma City Thunder
(24-20, fourth in Northwest Division and tied for ninth in West)
The Thunder are everyone's surprise team including ours. We thought OKC would be remarkably improved but not by this much as we had them penciled in for about 30 wins.
Kevin Durant is one of the few cornerstones in the NBA and is already lighting up the league with 29 PPG as a 21 year old. The rest of the team is stacked with former top draft picks that have not busted yet, and probably never will.
Russell Westbrook, Jeff Green, and James Harden, along with Durant are the Thunder's leading scorers all the while inadvertently teaching the rest of the NBA how to draft and develop kids.
Grade A.
Great job of drafting and developing the youngsters by Sam Presti and Scotty Brooks. The Thunder have a very bright future ahead of them and a great management team that will lead their franchise to the playoffs in the very near future.
Orlando Magic
(29-16, second place in Southeast Division and fourth in East)
The Magic ran away with the Eastern crown last season and much was expected this year but the Magic are not the same. Vince Carter has not stepped in for Hedo Turkoglu, and is still owed three more years at $16 million per season.
2009 All Stars Dwight Howard, Rashard Lewis, and Jameer Nelson are all either having down seasons or battling injuries but we cannot write off the defending Eastern Champs just yet.
ORL is still trying to trade for mistakes made over the summer (Marcin Gortat 5 years $30 million and Brandon Bass 3 years $12 million) and look for them to be active in February.
Grade I.
We think the Magic will be playing their best ball in April but if Vince Carter continues to struggle look for the Magic to also struggle in the post season. It is not a good thing when your playoff hopes are relying on the ailing shoulders of VC.
Philadelphia 76ers
(15-29, fourth place in Atlantic and 13th in East)
The Sixers had a plan when they signed Elton Brand two years ago and it was build the offense around a low post presence. Two years after the deal the Sixers are desperately trying to find a suitor for Brand, his 13 PPG, and his $14 million per season.
The Sixers are now building around Andre Iguodala, Jrue Holiday, Lou Williams, Thaddeus Young, and their new top five pick next season. Hopefully Philly can get extremely lucky and win the John Wall sweepstakes, trade Brand this summer, and sign a nice big free agent. But then you will probably wake up.
Grade D.
It got so bad for Philly this season they had to sign Allen Iverson.
Phoenix Suns
(26-20, second place in Pacific Division and seventh in West)
The Suns have been playing good ball all season long and have exceeded our expectations. We did not think the Suns would make the playoffs and it is still a possibility as only two games separate the fourth seed from the ninth.
Steve Nash is unbelievable as he has comparable stats to his back-to-back MVP seasons. Without Nash, PHX would be in the John Wall sweepstakes but with him they are playoff contenders. It has been well documented Amar'e Stoudemire is on the trade block and there are plenty of potential suitors for the athletic big man.
Grade B.
The Suns have a lesser chance of resigning Amar'e this off-season than they do of making the playoffs this year and look for them to ask for and receive a king's ransom for one of the best players in the world. Even with Nash aging, the Suns still have a bright future.
Portland Trail Blazers
(27-19, third place in Northwest Division and fifth in West)
The Blazers are right in line with our preseason predictions as they will likely make the playoffs because of Brandon Roy, Lamarcus Aldridge, and a very talented supporting cast.
Brandon Roy is likely to make Dream Team 2012 but is always battling nagging knee injuries, which is scary as he ages. The Andre Miller signing was a bad one and POR is already looking to deal him. Martell Webster is finally having his best season as a pro, and Jerryd Bayless, Rudy Fernandez, and Nicolas Batum will all be productive as the season goes on.
Grade A.
The Blazers have a very good team this season and have an even brighter future. What if they took Kevin Durant instead of Greg Oden?
Sacramento Kings
(15-28, fourth place in Pacific Division and 11th in West)
Rarely can you call a team that is winning only 35% of their games as a pleasant surprise but the Kings are just that.
Lead by Rookie of the Year frontrunner Tyreke Evans, the Kings have nearly equaled their win total from a year ago and they are winning without their highest paid player, Kevin Martin (who recently returned from injury).
The Kings have a nice solid young nucleus featuring Tyreke Evans, Kevin Martin, Omri Casspi, Spencer Hawes, and Jason Thompson among others and SAC will likely try and find a suitor for Kevin Martin ASAP.
Martin and Evans play the same position and it will be hard for those two to play together. Martin is a very good scorer and a lot of teams will likely be interested after this season but it could take nearly a year to deal him since a lot of teams are concerned with this summer.
Grade A.
The Kings have a very bright future and it will only get better by trading Martin and having a lottery pick this season.
San Antonio Spurs
(25-18, second place in Southwest Division and sixth in West)
The Spurs have not hit their stride all season and their roster that changed so much this past off-season might be finally catching up with them.
The Spurs added DeJuan Blair and Richard Jefferson to their rotation this season and it has not gone as seamlessly as originally thought. RJ is averaging his lowest PPG since his rookie season and Blair, although having a great season, is still making rookie mistakes on the defensive end.
Grade C.
For the first time in a decade San Antonio looks normal and beatable. We had the Spurs in the 2010 Finals but we retract that statement and we think the Lakers would sweep the Spurs out of the playoffs.
Toronto Raptors
(23-22, second in Atlantic and sixth in East)
The Raptors started out miserably but have climbed over .500 and find themselves in the post season if it started today. The Raptors rebuilt their roster after a horrible season last year and look like they are primed for a second half run.
TOR will likely not climb as high as the fourth seed but they can overtake the Heat's fifth spot and perhaps that can entice Chris Bosh into staying. JK, we do not think Bosh will be staying in Toronto as long as Andrea Bargnani and Hedo Turkoglu are the second and third best players on the team.
Grade B.
We thought Toronto would be better after last season's disaster but they started out slowly and play very little defense. If you want Bosh to stick around, GM Bryan Colangelo will need more talent and better defense.
Utah Jazz
(26-18, second in Northwest Division and fourth in East)
The Jazz are a typical Jazz team lead by Jerry Sloan, Deron Williams, and Carlos Boozer. Boozer has exceeded a lot of people's expectations by remaining on the team and posting good stats (19 PPG, 10 RPG, and third in the NBA with 29 double doubles). 
Deron Williams is likely going to make his first All Star team this season but the Jazz will need someone else to step up if they want to be legitimate contenders. Mehmet Okur cannot be your third leading scorer and Utah needs more contributions out of Ronnie Brewer and Andrei Kirilenko but their roster is loaded with wings, limiting both.
Grade C.
Andrei Kirilenko's contract has turned into a joke and the Jazz need to make room to let Paul Millsap and Ronnie Brewer grow.
Washington Wizards
(14-30, last place in Southeast Division and 13th in East)
Sadly the Wizards made the news for all the wrong reasons and it is because of Gilbert Arenas and journeyman Javaris Crittenton. Once known as a throw-in in the Pau Gasol to Lakers trade, Crittenton is now known as the moron that brought the gun to work.
Gil Arenas' contract is known around the league as a franchise crippler and his immaturity might have voided around the $100 million left on it. It should be an interesting off season and February for the Wiz as they will likely replace their coach and trade many of their assets. Caron Butler and Antawn Jamison are two very good NBA players and will be heavily sought after players this trade season and into next year. If the Wiz play their cards right, they can right this ship very quickly with or without Arenas.
Grade F
because they signed Gilbert Arenas to that ridiculous contract.
Matt Anaya
Twitter.com/MatAnaya