January 19, 2009 – Matt Anaya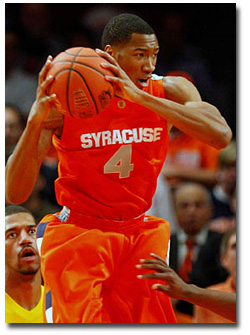 Matt graduated from Southern Illinois University at Carbondale in May of 2007 majoring in TV Production. Matt is currently a writer at StaticMultimedia.com, TheBleacherReport.com, NationalSportsNation.com, SportsMixed.com, FanFever.com, Filmcatcher.com, 2 Much Swag, and TheHoopDoctors.com. Matt will provide you with insightful wit and an eager eye for sports.
We are right in the middle of the conference season and this is the time of the year where the elite college players start to distance themselves from the rest of the pack. Conference road games are used as a great tool for March, when the pressure starts to build, the men become boys, and the professionals assert themselves in crunch time.
After conference season ends we get to tourney time and that is when the stars come out and shine, but that is not for another month and a half and we are starting to see who the real players are and who needs to stay in school.
Rising:
Hassan Whiteside (7'0" 265 lbs.) is dominating his Conference USA opponents averaging 14 PPG, 10 RPG, and over 7 BPG in his last three games. Whiteside is averaging 12 PPG, 9 RPG, and over 5 BPG (!) this season and is only a freshman and I would not be surprised if he takes the Patrick O'Bryant route in this season's draft and pops up in the lottery by the end of the season. Whiteside is a huge kid (6'11" 215 lbs.) , with long arms, great athleticism, and although not very skilled right now his soft hands and athleticism are early indicators the skills will come. It looks like Marshall will be one of the best teams in Conference USA and we will get to see Whiteside during tourney time and if Whiteside plays well these next couple months, he will be a lottery pick come June.
Wesley Johnson (6'7" 200 lbs.)has come a long way from being not drafted over the summer to the top 10 or even the top 5 picks in this June's draft. Johnson is very skilled and athletic and has very good fundamentals at either the guard or forward position. I still have Evan Turner ranked ahead of him because ET is more explosive and a better facilitator but Johnson reminds me of a young T-Mac. Johnson will never average 20 PPG in the NBA and we think he is slightly overrated and not deserving of a top 5 pick but his stock is the highest it will ever be.
Evan Turner (6'7" 200) made an early comeback from a near devastating back injury and immediately made his presence felt. Turner has played four conference games since his return and is averaging 18.5 PPG, 5.5 RPG, 4 APG, and over 1 SPG and went on a personal 14-2 run to win at Purdue. The Buckeyes are playing great ball since Turner's return and there is no question it is because of him.
Elias Harris (6'7" 220) has come out of nowhere for most college fans because he was playing in Germany last year and was not considered a top high school player last season. As a freshman Harris is leading his team in scoring and rebounding and can play both guard and forward positions and is a load to handle for any college player. Harris is not a superb athlete but either is Evan Turner, and Harris can shoot well already (44% 3P) but will need to improve his A/TO ratio (1/2).
Patrick Patterson's (6'8" 235) stock is rising because of John Wall, not because he has improved his game or is any better than he was last season. He is still the same player but with a playmaking guard that finds him open underneath for wide-open looks. PP can rebound and is a capable defender but does very little else and has very limited skills and potential. He should personally thank John Wall for getting him into the lottery because he will likely come off the bench his entire career that will last five years and he is climbing up other's draft charts but not mine.
Avery Bradley (6'3" 180) was one of the best high school players in the nation last season and has done very little to hurt his stock this year. He started off slow but has come on strong and is becoming one of the reasons why UT is a title contender. Bradley plays great defense and swipes over one SPG and has a great A/TO ratio (over 2/1). He shoots better FG% (47%) than FT% (46%), which is extremely odd, but is known for his supreme athleticism and is another great guard prospect eligible to come out for the 2010 draft.
Damion James (6'7" 225) is quickly becoming my favorite college hooper as he reminds me of one of my favorite NBA players, Gerald Wallace. Both players are listed at the same height and weight and play similar hectic styles. James can rebound as good as anybody in college (10th in NCAAB) and creates an impossible matchup for any college player. James is not highly skilled but is very athletic and his game will work in the NBA, not at an All Star's pace but he will be a solid player.
Solomon Alabi (7'1" 250) is coming on strong in conference season and is surprisingly shooting over 80% at the Free Throw line. He needs to become a better rebounder and has only recorded one double double this season but he is scoring double digits and is getting over 6 RPG in conference. I bring up Alabi's FT% because Marvin Williams and Hasheem Thabeet were #2 picks overall and NBA scouts were infatuated with their FT% because it is an indicator of touch and shooting ability.
Ekpe Udoh (6'10" 240) is an ultra athletic PF and is a double double machine. Udoh has ten double doubles this season, one triple double, ranks fourth in the nation in BPG, and shoots 55% from the field. Udoh is older, as is a Michigan transfer, and might look to leave early after this season. Udoh has skills and likes to play in the post and is starting to become an intriguing prospect.
Falling:
Derrick Favors (6'9" 220) has not fallen out of favor all too much but his stock is slipping because he is not making an instant impact. Favors came into GT with all the hype in the world as the next great big man but is not dominating like everyone thought he would. He is only averaging six shots per conference game with only one double double in 2010 and Favors would still be a top five to top ten pick if he came out this year but might benefit from another year in college.
Devin Ebanks (6'8" 210) has very limited skills as he struggles dribbling, shooting, and passing but is a proven rebounder. Ebanks struggles with his shot (43% FG and 13% 3PT) but does make 81% of his FTs and needs another season to work on his skills.