November 18, 2009 – Dr. Anklesnap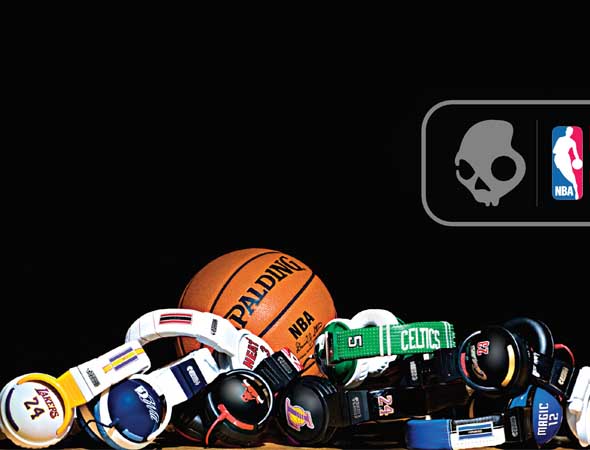 Remember when we copped a set of the Deron Williams and Andre Iguodala Skull Candy 'Player Series' head sets to do a review for you fellas? Well apparently The Hoop Doctors weren't the only ones that loved these babies. Skull Candy has had so much success with the NBA Player Series headsets that they are expanding the line. And get this, they are doing so in collaboration with the NBA!
Skullcandy's newest additions to its NBA Player Series will have fans worldwide rocking with team pride. Showcasing the names and team logos of six of the NBA's hottest players, the new NBA Player Series headphones by Skullcandy will be available in December at select retailers. Skullcandy initially launched the Player Series with Deron Williams and Andre Iguodala signature headphones. Both were met with such massive success that Skullcandy has partnered with the NBA to now offer officially licensed products that include stylish headphones for some of today's most prolific players – Kobe Bryant, Dwyane Wade, Derrick Rose, Kevin Garnett, Dwight Howard, and LeBron James.
Apparently they are going to release additional player models in the coming months. We checked it out for you and you can hit their website to pre-order your favorite player or team's custom headset to be sure you get a pair. The Hoop Docs have no vested interest in promoting these, we just think they are sick, so check 'em out.
Here is a little promo video we found about the deal: