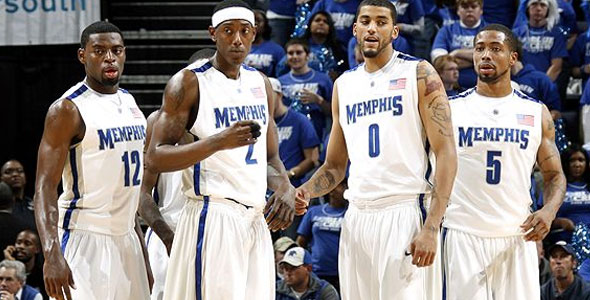 October 15, 2009 – Allen Moll
Allen Moll is an avid NBA and College Basketball fan who watches and studies games religiously and coaches youth basketball in his native Lehigh Valley region of Pennsylvania. Allen is a regular columnist for thehoopdoctors.com, Bleacherreport.com, UpperDeckblog.com, and his own blog, Hoops Haven .
The Memphis Tigers basketball program has risen to great heights over the past decade under the leadership of former head coach John Calipari. When the 2 time National Collegiate Coach of the Year left Memphis for the Holy Grail of college coaching jobs at Kentucky, he left behind a program in need of a rebuilding project, amid controversy, and with a barren roster. Although the former regime proved to be very successful by winning 214 games, including 4 straight 30 win seasons and making it to the postseason every year since 2000, new coach Josh Pastner is the perfect coach to guide and reshape an inexperienced roster back into national prominence…………….Just give him a year!
Even though Pastner was an assistant for only one season under Calipari, he is widely reguarded as one of the best basketball minds on and off of the court in all of the NCAA. Pastner has a great reputation as one of the college game's best recruiters from his prior post as an 6 year assistant under Lute Olson at Arizona. He has been responsible for bringing in and molding prized recruits, like Jordan Hill, Luke Walton, Channing Frye, and Chase Budinger to the Wildcat program, all of whom have since moved on to the NBA.
He has apparently already shown his recruiting prowess by reigning in one of the Top 5 recruiting classes for 2010 highlighted by 3 players rated among the best 65 players in the nation coming out of high school. Will Barton, who is the #11 overall, and #1 shooting guard prospect by Rivals, paired with the #12 prospect and Memphis native, Joe Jackson, could be one of the nation's most dynamic backcourts in the nation in 2010. Pastner also got commitments from Chris Crawford, a proficient 3 point shooter, who is rated the #65 prospect and Antonio Barton, who is a 3 star point guard, to play alongside his brother Will in the backcourt.
It's been 6 months since Calipari's departure left scars on the Memphis basketball program which undoubtedly has been traumatic to the returning scholarship players and fanbase alike. Most of the players on the roster were directly recruited by Calipari himself. Since coach Cal took three of his prized freshman recruits for '09 along with him to the Bluegrass State and two others transfered out to other schools, Pastner has had to hit the pavement running to put a competitive squad on the floor for the 4 time defending Conference USA Champion Tigers. While many media outlets are predicting a down year in '09 for Memphis, giving hope to the up and coming Tulsa and UTEP programs, don't count them out just yet. Memphis got some help when 6'5, promising sophomore, Elliot Williams, was granted a hardship transfer out of Duke, to play closer to home with the Tigers. They also return a trio of upperclassmen, Willie Kemp, Doneal Mack, and Robert Sallie(who scored 36 points in a NCAA Touney game last season), who were former Top 50 HS recruits of Calipari's, who played back up minutes to future NBA talents like Derrick Rose, Tyreke Evans, and Joey Dorsey.
The team was also hurt by junior forward, Shawn Taggart's ill fated decision to remain in the NBA Draft, even though he wasn't selected. The program suffered a bit of bad luck when two prized recruits for this season, 6'11 forward, Angel Garcia and French sensation, Martin Ngaloro, both sustained season ending knee injuries. Garcia is technically a sophomore since he was cleared to play last season as an early entry player, before suffering a knee injury in the preseason. Helping to offset those losses will be 6'9 junior Juco transfer Will Coleman, who plays above the rim, and the anticipated development of 6'9 sophomore forward Wesley Witherspoon, who is a great all around player who can play virtually any position from 1 to 4, and was a Top 30 player in the '08 recruiting class.
Tiger Nation unfortunately must be patient. Even though they will have to fight to keep their streak of 4 straight NCAA Tournament appearances intact, they must give their new head coach a year to right the ship and look to the future. Luckily, the former regime's infractions will not affect the program's progress going forward. That is a good thing, since Coach Pastner already has an incoming class of recruits for '10 that is so so talented, they may rival Calipari's much hyped freshman class this season. Just make sure everyone is taking their own SAT tests.
Check out a new Memphis Tigers video of key players for the '09-'10 season: