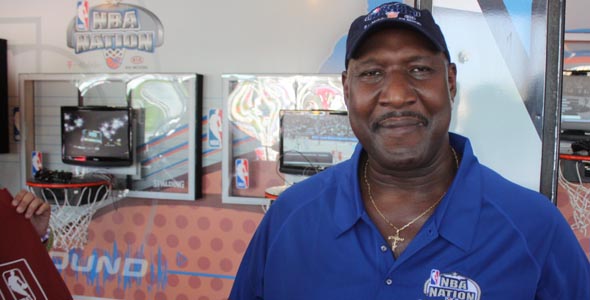 August 26, 2009 – Allen Moll
Allen Moll is an avid NBA and College Basketball fan who watches and studies games religiously and coaches youth basketball in his native Lehigh Valley region of Pennsylvania. Allen is a regular columnist for thehoopdoctors.com, Bleacherreport.com, Fanhuddle.com as a NY Knicks and Wizards correspondent, and his own blog, Hoops Haven.
Darryl Dawkins, known affectionately as "Chocolate Thunder" during his NBA playing days, is back where he belongs, on a basketball court. Dawkins, who has been coaching hoops since retiring from playing professionally in the mid 90's, has a new job as head basketball coach of the LCCC Cougars, a small junior college in Northeast Pennsylvania. Dawkins resides and has a huge fanbase in the Keystone State ever since his playing days for the local Philadelphia 76ers.
Dawkins has been a very successful as a coach at numerous minor league coaching venues and has aspirations of coaching at the highest level someday. He coached the Newark Express and Winnipeg Cyclones of the American Basketball Association in '97-'98. His most successful run as coach was from '99-'06 for the Pennsylvania Valleydawgs in the USBL. He led the Valleydawgs to 2 League Championships in '01 and '04 before the league folded in 2007. Dawkins has coached some very famous NFL players during his tenure with the Dawgs, most notably Randy Moss in '01, who was ranked the 2nd best player in HS behind Kevin Garnett in '95, and Terrell Owens for a short stint, during his time with the Eagles.
Darryl became one of the first HS players to go straight to the NBA when the Sixers selected him #5 in the 1975 draft. Dawkins, because of his immense size and ferociousness around the basket was unfairly expected to be "the next Wilt Chamberlain." Although he was annually among the league leaders in FG%, because most of his shots were dunks, he never lived up to the lofty expectations by averaging 12 points and 6 rebounds over 16 injury plagued seasons. After his last full season in '86 with the NJ Nets, he attempted several comebacks with the the Jazz, Nuggets, and Celtics before retiring in '89. He then spent several seasons playing in Italy, a stint with the Harlem Globetrotters, and with the Sioux Falls Skyforce of the CBA. During his final season as a player for the Skyforce in '95, one game was televised by ESPN in which he outplayed Manute Bol who played for rival Florida Beach Dogs.
"Chocolate Thunder" was probably best known for his playing days with the Philadelphia 76ers, where he was a valuable role player for some very talented Dr J, Mo Cheeks, and George McGuiness led teams that made 2 unsuccessful trips to the NBA Finals.
Dawkins developed a cult following when, during the '79 season, he broke several backboards with his earth shattering dunks. The NBA then made a rule change where shattering a backboard would result in a fine and suspension. Dawkins, one of the game's most powerful dunkers in history, also entertained fans by giving his ferocious dunks colorful nicknames like, "In-Your-Face-Disgrace", "Go-Rilla", and "Spine Chiller Supreme". He also showed his eccentric side by creating nicknames for……………himself, like, "Chocolate Thunder", "Sir Slam", and "Dr. Dunkenstein". He also claimed to be from the planet "Lovetron", where he spent his offseason practicing "interplanetary funkmanship" with his girlfriend "Juicy Lucy". Good stuff!
Darryl Dawkins has made his mark in the NBA by proving to be one of the best ever in terms of his .572 career FG%, which ranks 5th all time, one of the best dunkers, and personalities. He deserves a chance to prove himself to be one of the best in the NCAA or NBA coaching profession as well.
Here is the top 10 plays of "Chocolate Thunder's" career: