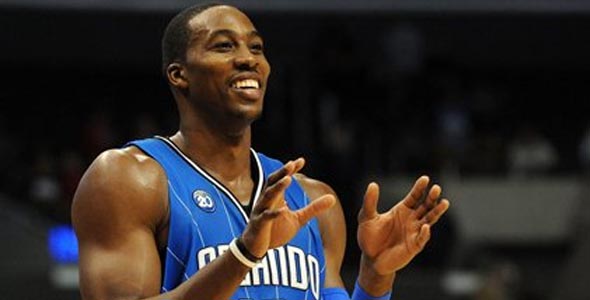 July 31, 2009 – Allen Moll
Allen Moll is an avid NBA and College Basketball fan who watches and studies games religiously and coaches youth basketball in his native Lehigh Valley region of Pennsylvania. Allen is a regular columnist for TheHoopDoctors.com, Bleacherreport.com, Fanhuddle.com as a NY Knicks correspondent, hoopsworld4.wordpress.com, and Helium.com.
The NBA is becoming a young man's game. Even though the NBA changed the age eligibility rules a few years ago, many of the game's best players are coming to the professional ranks after only a year or two of NCAA or European experience. I have compiled a list of the most talented players and future stars in the league under age 23. Why twenty three? Most of the NBA's current crop of superstars like Lebron, Kobe, and Wade are in the mid 20's to early 30's. We all remember back in the 80's when Magic and Bird passed the torch on to MJ. This is the list of players that our current stars will, or already have started to pass that torch onto, within the next 5 years. Players who haven't yet played an NBA game(like this years draft class) were not included. If you think that I missed someone or have an opinion, please leave a comment.
Click here for Part One listing players #10-6.
Here are players ranked #5 through #1:
5) Rajon Rondo, Boston Celtics – Age 23
As one of the best players ever to come out of the prestigious Oak Hill Academy HS, Rondo came close to setting the national assist record in a game on two occasions, netting 27 and 31 assists, as well as scoring 55 points. These were telling signs of the future NBA point guard. After playing two seasons at Kentucky, he was the first point guard in '06 at #21 by Phoenix and immediately dealt to Boston. Even while backing up Sebastian Telfair in his rookie season, Rondo earned All Rookie Second Team honors. In his second season, he started every game for Boston, becoming the maestro to the All-Star trio of Garnett, Pierce, and Allen, and helping to lead them all the way to the NBA title. Rondo has improved his shooting every year in the league from 41% as a rookie to almost 51% last season. 2009 was his best season averaging 11.9 points, 8.2 assists, 5 rebounds, and 1.9 steals, earning All Defensive 2nd team honors. As all good players do, he upped every offensive category in the playoffs, nearly averaging a triple double with 16.9 points, 9.8 assists, and 9.7 rebounds in 14 games. Rondo, especially while he is surrounded by such a talented group of players in Boston, has a decent chance of leading the NBA in assists and making numerous All-Star appearances.
4) Josh Smith, Atlanta Hawks – Age 23
Smith made a gigantic splash in the NBA when drafted #17 overall in '04 out of Oak Hill Academy HS. He gained a large fan base and raised eyebrows in his rookie season when he won the NBA Dunk Contest while sporting a vintage Dominique Wilkins jersey. He earned All Rookie Second Team honors while posting decent numbers averaging 9.7 points, 6.2 rebounds, and an impressive 1.9 blocks. Smith has steadily improved his game in all facets over his 5 NBA seasons. It is hard to believe that he is only 23, and that he is a consistent 15-20 ppg scorer to go along with 8 rebounds and almost 2 blocks. He is a perennial Defensive Player of the Year candidate since, during the '07 season he became the fastest player ever to reach the 500 block plateau. If he improves his mid range shooting, he should be in the All-Star discussion at forward for the next 10 years. The Hawks must agree since they have Smith under contract through 2013.
3) Derrick Rose, Chicago Bulls – Age 20
The NBA is in great hands for the future since Rose comes in at only number 3 on this list. All he did in his first season is lead his team in assists, win Rookie of the Year, and lead his squad back to the playoffs. Rose seems to know little about failure since in high school as his team went 120-12 and won 2 state championships and was rated the top point guard in the country coming out of HS. He also didn't disappoint in his lone college season at Memphis, leading his team to a 38-2 record, losing in the NCAA Championship game to Kansas. Rose started hi NBA career off strong, after being chosen #1 in the '08 draft by Chicago by averaging 16.8 points and 6.3 assists. He became the first Bulls draft pick to score 10+ points in his first 10 games since Jordan. He became the first rookie to win the All-Star Skills Competition, became only the 3rd Bull to win Rookie of the Year(Jordan, Brand,Rose), and also tied the NBA record for points by a rookie in a playoff game with Abdul-Jabbar(36). With one of the greatest starts in NBA history for a point guard, there is no limit to how great he can become, maybe one of the best ever.
2) Kevin Durant, OKC Thunder – Age 20
It is hard to believe he is only 20 since he has become a household name since he was rated the 2nd best prospect out of HS in '06. Durant was purely dominating at Texas by being named Freshman and National Player of the Year by averaging 25.8 points and 11.1 rebounds, which was one of the best freshman seasons in NCAA history. He became only the second college freshman, along with Greg Oden to be invited to the Team USA Basketball Camp. The Sonics, who later moved to OKC, selected him #2 overall in the '07 draft. Displaying amazing poise and skill for a rookie NBA player, he averaged 20.3 points, 4 rebounds, and shot 43% from three, earning him Rookie of the Year and set the scoring record in the Rookie Challenge Game by scoring 49 points. Amazingly after not being selected to the '09 All-Star Game, he broke another scoring record for the Sophomores against the Rookies, by scoring 46 points on All Star Saturday. After just his second year he increased every offensive category by averaging 25.3 points, 6.5 rebounds, and shooting 47% from three. Durant will undoubtedly challenge for the NBA scoring title, double digit All-Star Game appearances and maybe even MVP awards.
1) Dwight Howard, Orlando Magic – Age 23
The man known in NBA arenas as "Superman" has been a literal superstar player since high school. In '04 as a senior in HS, he averaged 25 points, 18 rebounds, and 8 blocks to be named National HS Player of the Year. That led to foregoing college and being selected #1 overall in '04 by Orlando. Even though he finished 3rd for Rookie of the Year, he set NBA records by becoming the youngest player to average a double-double for a season(12 pts, 10reb) and youngest to grab 20 rebounds in a game. In his second season he became the youngest to record a 20 point and 20 rebound performance. In just his third season, he finished #1 in rebounds, #2 in field goal % and #9 in blocks while leading the Magic to the playoffs. In '07-'08 Howard was the starting center for the Eastern Conference in the All-Star Game and wore the now famous "Superman Cape" to become the Slam Dunk Winner. 2009 may have been his best campaign by averaging 20.6 points, 13.8 rebounds, 2.9 blocks, and leading his team to the NBA Finals. His resume is stellar, becoming the youngest in history to reach 5000 rebounds, holds NBA Finals record with 9 blocks, is a Olympics Gold Medalist, 3 time All-Star, 2 time All-NBA First Team Selection, and Defensive Player of the Year in '09. Howard, like former Orlando #1 pick Shaquille O'Neal, is the best big man of this generation. He should be a finalist for every major year end award including, MVP, Defensive Player of the Year, and even Finals MVP if the Magic keep surrounding him with excellent talent. He has had a great start to a future Hall of Fame career.