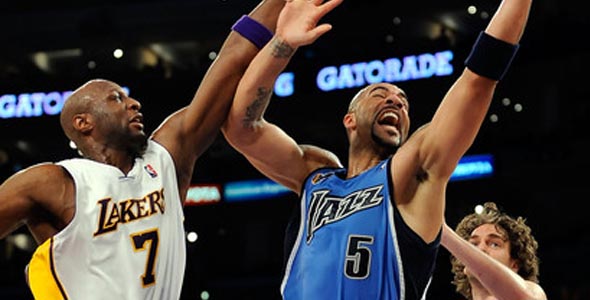 July 26, 2009 – Allen Moll
Allen Moll is an avid NBA and College Basketball fan who watches and studies games religiously and coaches youth basketball in his native Lehigh Valley region of Pennsylvania. Allen is a regular columnist for TheHoopDoctors.com, Bleacherreport.com, Fanhuddle.com as a NY Knicks correspondent, hoopsworld4.wordpress.com, and Helium.com.
The Miami Heat are coming off of an impressive 43-39 season in 08′-09′ considering where they finished in the previous season, an NBA worst 15-67. That horrific season gave them one of the pieces to rebuild around NBA superstar Dwayne Wade, in forward Michael Beasley with the number 2 overall pick in the draft. Although the Heat made the playoffs as the #5 seed in the Eastern Conference, their biggest concern is how to keep Wade in South Beach after this upcoming season when he can opt out of the last year of his contract and become a free agent along with other franchise players like Lebron James and Chris Bosh.
If the Heat can surround the top 5 talent with enough of a supporting cast to once again become a contender in the East, they will be the front runner to retain Wade with a long term deal. The two ways they can accomplish this is through free agency or a blockbuster trade. The two rumored options include signing free agent Lamar Odom, also known as "Candyman", for his penchant for eating candy during practices and games and his clothing line, or packaging players in a trade for Utah big man Carlos Boozer. D. Wade seems to be in favor of both moves.
Coming off of winning his first NBA title with the Lakers, Odom has inexplicably not had many free agent offers. After initially declining the Lakers original 4 year $36 million offer, the Heat have reportedly shown some interest in the 10 year veteran who averaged 11 points and 8 rebounds off the bench last season. He played so well for Miami in the 03′-04′ season, which was Wade's rookie season, that they rewarded him with a 6 year deal, which he just finished last season. Wade became not only teammates but good friends since that season. Odom was then sent to the Lakers in the deal which brought Shaquille O'Neal to Miami. Both Wade and former Lakers teammate Kobe Bryant have been publicly recruiting Odom to rejoin their squads.
If Miami cannot resign Odom, the Heat and Wade are reportedly very interested in acquiring US Olympian and 2 time All-Star, Carlos Boozer by trade. Boozer has one year remaining on his deal worth $12.6 million. Utah would undoubtedly want rising 2nd year star, Michael Beasley, or starter Udonis Haslem, in any proposed deal. The Heat could offer any of it's four centers under contract since resigning Jamaal Magloire and Joel Anthony to go along with Jermaine O'Neal and Mark Blount. Boozer is a career 17 points and 10 rebound performer over 7 NBA seasons. He averaged a career high 21.1 points in 07′-08′, and won a gold medal for the USA in the 2008 Olympics, before an injury plagued last season. He is regarded as one of the best power forwards in the game today. It seems like a good fit since Boozer still maintains a home in Miami in the offseason.
The Heat are also stacked at the small forward position which could ultimately lead to the end of Beasley's career in Miami if either player is acquired. The Heat added Robert Dozier who played at Memphis in college, in the NBA draft to go along with James Jones, Dorell Wright, and Diawara at small forward. This was part of the reason why Miami chose not to match Cleveland's offer sheet to Jamario Moon. Although Beasley led the nation in rebounding in college at Kansas State in 07′, at 12,4 per game, he is probably better suited to play small forward since he only averaged 5.4 rebounds to go along with 13.9 points during his rookie season in the NBA.
While most team's focus has been on changing their team's makeup to win an NBA title, the Miami Heat should keep in mind their NBA worst record two season's ago and be sure to get allot of input from Mr. Wade if they want to keep the "Flash" in Miami past next season.