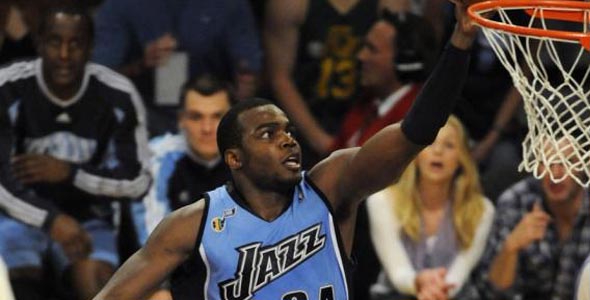 July 12, 2009 – Michael Pina
Michael Pina has a BA in English with a concentration in Journalism from the University of Delaware. He is currently living in his hometown of Boston.
When the Portland Trail Blazers made the decision to offer Utah Jazz forward Paul Millsap a four-year contract this past week, they unknowingly pushed a big, flashing, ruby red panic button. The club is young, very talented and have money to spend, which would cause any fan base to gouge their eyes out if it looked like management wasn't doing all it could to win, but sometimes doing nothing and letting what you have grow together is better than signing a juicy free-agent to come in and save the city.
Of course none of this would need to be said if they had signed Hedo Turkoglu, but since they were embarrassed in his spurning, the Millsap signing will look like a good, old-fashioned knee jerk response.
Maybe they get Paul Millsap and maybe Utah matches the offer. Maybe he continues to perform as admirably as he did last season filling in for Carlos Boozer, the Olympian and maybe the big contract and increased attention will catch up to him. Millsap is one of the best rebounding forwards in the game. He's calm around the basket and can finish reasonably well, but he was doing so under the radar. There were no game plans against him and his play, although very productive, didn't warrant too much attention from opposing coaches. It's a lot easier for an opposing pitcher to momentarily lose his concentration and let one hang on a .220 hitter as opposed to Albert Pujols.
Not to get on Millsap to bad, as he could end up being a cornerstone for either the Jazz or the TrailBlazers some point down the line, but as of today the Blazers look like Hillary Clinton crying in New Hampshire offering him a four-year contract between 32-36 million dollars, not including the signing bonus which is reportedly another $10 million. Portland has the look of a frenetic organization making a move that really doesn't need to be made right now. A more intelligent line of focus might be to soothe their franchise player Brandon Roy and give him a max contract, but that's another day's discussion.
When it was clear that they wouldn't get Turkoglu, who would have fit perfectly in their team oriented system, General Manager Kevin Pritchard knew signing no free agents with all the money he has to spend would unquestionably lead to another first round exit and dissatisfied fan base. Millsap is a valuable piece for any championship caliber team in that he knows his role both offensively and defensively and does a good job of sticking to it, but since when is it rational to thrown $9 million per year at a bench player?
Even with the league's salary cap being lowered next year, the Blazers have boat loads of money to spend, which is one possible answer to that question, but then the on-court dynamic could get messy. The Blazers presumable starting line-up with Millsap in the fold would be: Blake, Roy, Oden, Aldridge, and Millsap. That's not a bad starting five by any means (if everyone stays healthy) but then who can rebound coming off the bench? Joel Przybilla's your option? Once the ball is tipped and Greg Oden already has three fouls, what's Coach McMillan to do? It's either start Travis Outlaw or the 20-year-old Nicolas Batum and keep Millsap on the sidelines (where he'd be making about $9 million dollars) or take your chances with a bench that's currently very, very thin up front. The big men would certainly wear themselves out come spring if you chose the latter.
Portland wants Paul Millsap, but his current team Utah absolutely craves him. They all but blacklisted Carlos Boozer for the future, breaking up one of the better pick and roll combinations in the league, and now they've put all their eggs in one basket. Of course, if all were to go according to plan for them, Boozer would have opted out of his contract, as he was expected to do and they would have already re-signed the 24-year-old Millsap making him a full time starter. He hustles, rebounds and plays defense, which are obviously all positive signs. He's young, was sixth last year in total rebounds and will eventually develop a reliable offensive game on the block.
The message here is that Paul Millsap could be one of the great draft finds of his generation. He was selected 47th overall and is quickly becoming the NBA's very own Google Stock share. The Utah Jazz posing as a wealthy investor, looked at the other startup Internet corporations, found one they felt could not only help out their portfolio down the line but also seriously surprise all the other buyers. When the share's value soars higher than ever before with nobody able to tell where exactly it'll taper off, it only makes sense that the stocks owner, in this case the Utah Jazz, would do everything in their power to keep it.
Ara Vartanian, Millsap's agent, is saying the best player out of Louisiana Tech since Karl Malone, has more to his game than he showed under Jerry Sloan's structured system.
"Paul Millsap has got more game than anyone knows," he said. "People just haven't seen it…But he can shoot, and I'm talking (range from) NBA three."
Vartanian went on to say that his client is capable of playing both forward positions as well as center, which is great agent speak, but not all that likely in an 82 game season.
If he did in fact choose to relocate his 6' 8", 250-pound rock solid frame to the Pacific Northwest, Millsap would be dangerously close to becoming an instantly overrated player, contract wise. Put him in line with Trevor Ariza and possibly Glen Davis as young role players able to cash in on a poor free-agent class in a player's league.
Paul Millsap has the intangibles to be a very good, useful NBA player, but Portland next year, and the following three, isn't the place for him.