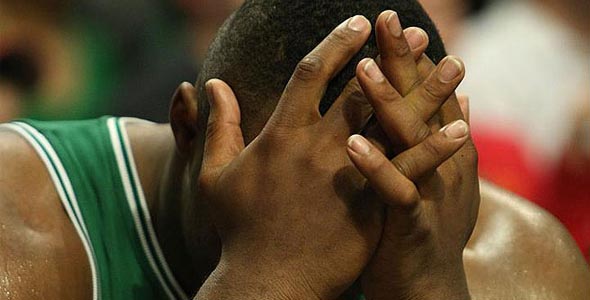 July 15, 2009 – Ryan Desmarais
Ryan Desmarais is a senior at the University of New Hampshire at Manchester, where he will receive his BA in English in December 2009. He currently resides in Manchester, NH.
Imagine yourself as the General Manager of an NBA club for a moment. It's the middle of the free agency period and you're looking to bolster your roster with another key acquisition, one that might turn your team into a serious contender. You look up and down the list of available free agents and you see the names of some former All-Star players who might've lost a step or two over the years, but can still put up decent numbers and might help you win now.
Then you see the name of a young guy who's had problems containing his weight since college, is too short to play his natural position in the league, and has only averaged 5.8 points and 3.5 rebounds a game during his career. Oh, by the way, you find out that he's looking for you to give him, at the very least, your mid level exception of nearly $6 million per season. For many of you, that's probably one of the first names you cross off your list, right?
Well, if that name was Glen "Big Baby" Davis, you might've just made a huge mistake.
A former second round pick, Big Baby had his coming out party during this past postseason. But don't expect him to pull a Jerome James and pack it in after getting the nice contract. His playoff performance gets all the buzz, but Davis was also able to fill in admirably for the injured Kevin Garnett during the regular season. In the 16 games he started for the Boston Celtics in the '08-'09 regular season, Davis averaged nearly 13 points and 6 boards a game and helped lead the team to a 17-5 record after KG went down. However, he brought his game to another level once the playoffs began. In 14 postseason games, Baby averaged 15.8 points and 5.6 boards while playing over 36 minutes a game for a team that was desperate for bodies.
More importantly, Davis has continued to improve his all-around game since entering the league two years ago. At LSU, he mostly played in the post and used his wide frame to back defenders down and get closer to the basket. Unfortunately, Davis is only 6'9" and that kind of game doesn't translate well when you're playing with the big boys. So this past season, he added a mid-range jumper to his repertoire and by the time he was called upon by the C's to play a bigger role, he was able to hit the shot consistently. He might even be able to stretch the floor more next season as he recently told the Boston Globe that he is working this off-season on being able to hit the 3-ball consistently. Davis also said that he wants to drop more weight before next season, about 30 pounds or so. Doing so would allow him to become a little more agile when he's driving to the hoop or pulling off some of his post move, allowing him to become more versatile.
Although Davis has only played two seasons in the NBA, he has something that some of those other free agent stars don't: a ring. Davis has been through two long playoff runs and has played in 31 playoff games. He has a ton of big-game experience for such a young guy. And if you want to go back to his college days, he played in the NCAA Tournament twice and led the Tigers to the Final Four in 2006. The experience that Davis has would be a great addition to a young, up-and-coming team that's on the brink of breaking through.
But the one thing you can't deny about Baby is his passion for the game. He leaves everything he has on the floor and puts it out there for the world to see, regardless of the emotion. In the beginning of the season, we saw him cry during a timeout on the bench after Garnett criticized his play and used him as an example in front of the rest of the team. By the time the season was ending, we saw him go demolition derby on a little kid that was sitting courtside after hitting a game-winning buzzer-beater in the Conference Semis. Davis's love for the game of basketball is undeniable, which is a breath of fresh air in the time of opt-out clauses and nine-figure salaries.
Obviously, Big Baby isn't a superstar. His defense abilities still need work, he needs to figure out a way to stay out of foul trouble, and he's nowhere near peak physical condition. He's only 23 years old and, like almost all young players, can be inconsistent at times. But Davis has worked himself into a very good player in the league and would be a tremendous addition to any team, whether they're a contender or not. Whatever the dollar amount is on his new contract, Glen Davis is worth every penny.