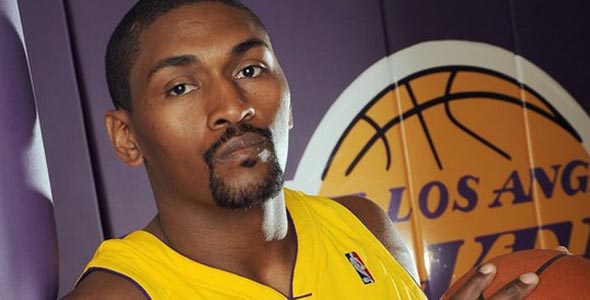 July 31, 2009 – R.S. De France
R.S. De France is a College and University instructor of English Composition. He has a B.A. in English and an M.A. in Rhetoric, Composition, and Writing. One of his life-long pursuits has been writing and covering anything related to sports, specifically the NBA. Recently, De France, his wife, and another colleague started an internationally read magazine at Shwibly.com.
A Portrait of the Artest as a Grown Man
Now that the Los Angeles Lakers have re-signed Lamar Odom to a four year deal, they will be able to overcome Andrew Bynum's nearly annual mid-season injury. After resigning Odom and snagging Ron Artest from the Houston Rockets, the Lakers should cruise to another title, right? What they are attempting is almost impossible in basketball—that is to repeat as NBA champions after losing in the Finals. Even if they had Michael Jordan and Julius Erving on the team, winning again in 2010 will be a highly improbable feat for the Lakers.
The last and only team to do what the Lakers are attempting, the 1988-1990 Detroit Pistons, was one of the strongest defensive teams in NBA history. The only problem is these Lakers are known for being about as soft as silly putty on defense. But, does Artest automatically transform a team, defensively?
These last two seasons the Lakers have gone to the NBA Finals. Record 1-1. Despite one win and one loss, these seasons had a lot in common, for the Lakers and for the league. For one, Andrew Bynum has been hurt both seasons, allowing Odom to step up and fill in valiantly. Also, between 2007 and 2009, the Spurs struggled to regain their championship form, mainly due to age and injury to Tim Duncan and Manu Ginobili. There was also no Lebron James in the Finals. This year, however, teams have made monumental moves that have built up enormous expectations for how the upcoming season will play out.
Sure, the Los Angeles Lakers added Ron Artest, but will he help them win?
Wherever Artest goes, the team wins less. He played for a Sacramento team that had won 50 games the year before he arrived. In the Artest years, from '05-'08, the Kings experienced a steady decline down to 44, 33, and 38 win seasons. Even the Houston team he joined from '08-'09, won two more games the year before Artest came to town. A pattern starts to appear: when Artest moves to a new team, that team loses more games.
Artest does not help teams win. Sure, some will argue that Artest helped Houston's Yao Ming past the first round of the playoffs for the first time ever. This is partially true, but the Rockets also proved against the Lakers in the '09 playoffs that they are deeper than people give them credit for—between Aaron Brooks, Shane Battier, Luis Scola, Brent Barry, Brian Cook, Carl Landry and Kyle Lowry. Furthermore, Artest's playoff numbers were decent, but not significantly better than his regular season numbers.
On the surface this signing looks awesome for the Lakers, but how have Artest's teams faired in recent years? In addition to a decrease in winning, Artest always seem to become the focal point of whatever team he plays for. Indiana had Jermaine O'Neil. Sacramento had Kevin Martin. And the Rockets had Ming and McGrady. But, what do you remember most about those teams with Ron Artest? You remember the Brawl at the Palace, featuring Artest. You recall Martin got injured, which allowed Artest to be the focal point of the offense. Even before the injuries, Artest had already carved out an equal limelight to Ming and McGrady for himself in Houston. And, in the playoffs, Artest eclipsed the others as he shared the media spotlight with Kobe Bryant, not Yao Ming.
Beyond the obvious, that Artest is 29 years old, last year was also one of Artest's worst seasons statistically. His points per game dropped from 20.5 to 17.1 (-3.4). He also had his worst recent season as far as assists, rebounds, blocks, and steals go (all down from the previous year). In essence, my argument against Artest helping the Lakers win a championship is: Artest can't win, can't share, and can't get any younger.
This season is shaping up to be a great one. With health and all things being equal, the Celtics and Cavaliers will battle in the Eastern Conference Finals and the Spurs and Lakers will have a good chance of meeting in the Western Conference Finals. And, as an L.A. native and die-hard fan, I have to hope for a Lakers-Celtics Finals rematch where the Lakers can redeem their loss from '07.
I would be overjoyed if I felt the Los Angeles Lakers were getting better, but this off-season they have taken a step back. The Lakers have gotten older, slower, but are still one of the deepest and most experienced teams. Since they have retained Odom, he should again help give the Lakers' bench an advantage over most teams. With Odom, Pau Gasol, Kobe Bryant and Phil Jackson to lean on, the city of Los Angeles' title hopes lean a little less heavily on the frail, young legs of the oft injured Andrew Bynum, but will still depend on how well Artest can help a championship team.