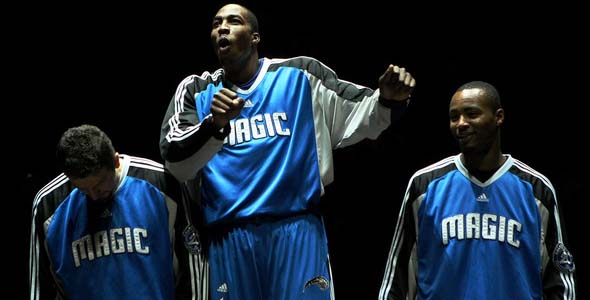 June 3, 2009 – Ryan Richman
Ryan Richman lives and dies with NBA Basketball. His biases include: all former and current UConn Men's basketball players, and any player past or present on the Golden State Warriors roster.
1.) Containing the Black Mamba
Easier said than done. Kobe Bryant has not one offensive flaw (and defensive flaw for that matter) to his game. Bryant knows he is the best player in the world and he isn't afraid to let you know – just ask Shane Battier. Bryant reverberated his winning championship intentions crystal clear to the world in Game 6 of the Western Conference Finals against Denver. Not only did he pour in 35 points along with ten assists, more importantly, he did it the prototypical championship MVP way. Bryant was coaching and encouraging his teammates at every turn. He picked his spots to dominate to perfection. Bryant controlled the tempo of the game similar to a quarterback (think Tom Brady). If he continues to do that, the Lakers will have rings on opening night next season. The Magic do have capable defenders to throw at Bryant. Mickael Pietrus, Hedo Turkoglu, Rashard Lewis and Courtney Lee have their hands full again after their matchup with LeBron James. Pietrus coming off the bench did an especially strong job on James. Having Dwight Howard to meet Kobe at the rim is invaluable for the Magic and it will be absolutely crucial that Howard stays out of foul trouble. With arguably the greatest puppet (I mean player in the world) in Bryant, you need to pick your poison. Bryant is a far dangerous player when he plays like he did in Game 6 against Denver. Distributing the ball and getting his teammates involved, in turn, opening the game up for himself. If Lamar Odom, Pau Gasol and Trevor Ariza combine for over 55 like game 6 (57) – the Lakers are virtually unbeatable.
Recipe for (maybe having a chance at) slowing Kobe Bryant down: Make Kobe a scorer first, second and third. Focus on stopping the supporting cast, specifically – Odom, Gasol and Ariza. DO NOT let Bryant be a facilitator. DO NOT let Bryant be a facilitator and a scorer. Pray.
2.) Trust
While some may think that dead-eye three-point shooting is what got Orlando to where they are, this is far from the case. Although the Magic are an exceptional three-point shooting team, the reason why they are in the NBA Finals stems from their inside-out style of play. Get the ball to Dwight Howard and if the Lakers double, kick it out to the plentiful perimeter threats that the Magic have. If the Lakers do not double, Howard should have a field day with the putty soft Pau Gasol and the uncoordinated, under-developed Andrew Bynum. There is no reason Howard should not touch the ball every possession that he is on the court. He has the highest field goal percentage in the playoffs at just over 62% a game yet he only takes about twelve shots a game. This is a problem. Dwight Howard is the most physically imposing player in the NBA. If the Magic want to win this series, Howard needs more touches. It is not ridiculous to say that Howard should be taking closer to twenty shots a game. Orlando loses games when they stop pounding the ball inside and stick to the jumpshot (specifically the three). Trusting their inside-out style of play is a priority. They also need to trust in each other as well as their coach (a personal favorite), Stan Van Gundy.
3.) Confidence
Arguably the most important out of the three. The Magic can play with anyone. They proved doubters wrong (including myself) by dethroning the defending champion Boston Celtics, then the King and his men in the Conference Finals. These Finals should be no different. Although their team has limited finals experience, they are clicking on all cylinders. As a player myself, I can say without a doubt that Confidence is the single most important factor in basketball. If the Magic stick to what has gotten them there and believe in their abilities, they can win this series no question. Hopefully the bright lights of the big stage don't get to Orlando because this team is a championship caliber team and one through fifteen on that bench need to know that and believe in that.