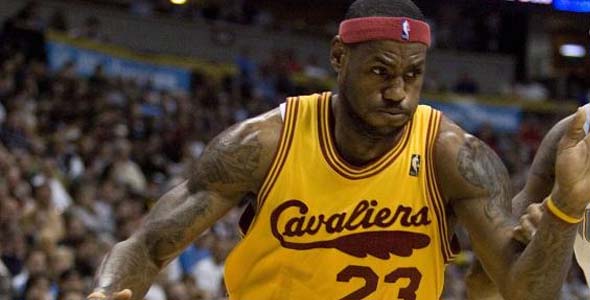 June 4, 2009 – Dr. Dime
The NBA tonight announced that Lebron James has been fined by the league a whopping $25,000 for his snubbing of the media following the Cleveland Cavaliers final loss of the season to the Orlando Magic in Game 6 of the Eastern Conference Finals.
Lebron James will no doubt be apologizing over and over again this summer for the snub to ensure his reputation isn't damaged too much. Currently there is an angry reaction among some fans that has been gaining steam. Although Lebron a couple days after the snub stated that 'no one likes to shake hands and talk after getting beaten up', NBA fans aren't buying it. The internet forums and message boards have been on fire since the end of the Conference Finals, talking about how Lebron was acting like a cry baby and calling for Stern to fine the NBA's brightest star for his actions.
Well it seems that as of tonight, those calling for 'The King' to be fined got their wish. So what does NBA Commissioner David Stern think about Lebron's actions and the fine? Here is Stern's comments today:
"He [Lebron] asked that I express to the media, the Magic and the fans his apology, and particularly the young fans, because he knows he has a responsibility to all of our fans, and that sportsmanship is appropriate whether you win or whether you lose," Stern said near the start of his annual NBA Finals press conference.

"He understands why it was necessary for me to fine him $25,000 for missing the media availability….Certainly as it related to the media, we have a rule, you guys know that we've had some interesting issues over the years with some of our coaches and the like, and it was inappropriate for me to give someone a pass here," Stern said.
And for those of you that didn't get to see the Lebron interview about why he snubbed the media and the Orlando Magic after the Eastern Conference Finals Game 6, here you go: