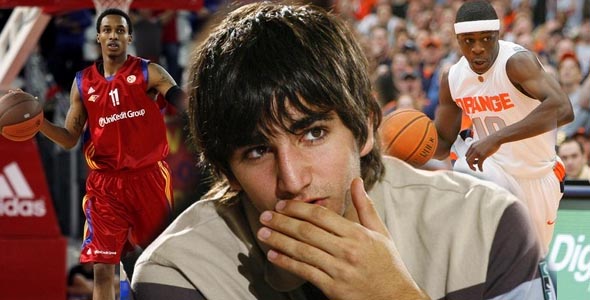 June 23, 2009 – Michael Pina
Michael Pina has a BA in English with a concentration in Journalism from the University of Delaware. He is currently living in his hometown of Boston.
The point guard depth in the 2009 NBA draft is cavernous. Mid-Atlantic Ridge, Proposition Joe deep. Filled with half a dozen future floor generals, including one that can't buy a beer for another three years, one that's played in (and utterly dominated) a six overtime game, one who said thanks but no thanks to a brief college education and blazed a path to Europe, and one, who once he's drafted, will claim the most attractive mom in the league (and a former NBA sharpshooter as a dad).
There are natural scorers who possess Kevin Durant "H-O-R-S-E" range, struggling shooters who might miss a Shaquille O'Neal waist line rim with a golf ball, Pete Maravich and Calvin Murphy look-a-likes and youngsters looking to have the game's mini men of the future copy their brand new style. There are Australians, Spaniards and American homegrown talent; representatives of traditional schools like UNC and UCLA and one who competed in the Colonial Athletic Association.
There are the slick penetration specialists who make getting to the rim look easier than strapping Velcro across a shoe. Point guards who get to their spots before the 24-second shot clock gets to the teens. There are a few combo guards who may never play the one and relegate themselves to scoring and a few who aren't yet familiar with the whole concept of being selfish.
There's a lot of talk going around about how the upcoming draft is McLovin weak, but the most important position in the sport is the point guard. Between Ricky Rubio, Brandon Jennings, Stephen Curry, Tyreke Evans, Jonny Flynn, Ty Lawson, Jrue Holiday, Eric Maynor, Jeff Teague, and more, there is no way anyone can call this years point guard draft class weak. The NBA's landscape will be modified more than usual three to five years from now when these ants among giants put their fingerprints on the best professional league in the world and prove some critics wrong.
Regardless, it's a diverse, multi-cultural, eclectic group with gifted ability and hopefully most of them end up in the right system and are able to pilot their selected franchises to the next level. At worst, there should be some very exciting basketball to be played in the years ahead. The dynamic unfolding between this once in a generation group has already grown spicy. Without a game in the books there has already been tabloid worthy drama, putting the competitive juices on display that will soon give birth to some exceptionally compelling back court rivalries.
Of course, unpredictability goes hand in hand with the NBA draft like grease and bacon. Nobody, not top league executives, team presidents, general managers or head coaches knows who will break out onto the scene and become the next John Stockton. If they did, the Atlanta Hawks would have either Chris Paul or Deron Williams throwing lobs to Josh Smith, no look bounce passes to Al Horford and penetration kick-outs to a wide-open Joe Johnson. Josh Childress certainly wouldn't be in Greece.
There's no telling who will pan out and who won't crack a starting lineup. By honest estimation, there are roughly 16 teams that could use a point man for the future. Here they are (in alphabetical order): Atlanta Hawks, Dallas Mavericks, Denver Nuggets, Golden State Warriors, Los Angeles Lakers, Memphis Grizzlies, Miami Heat, Milwaukee Bucks, Minnesota Timberwolves, New York Knicks, Philadelphia 76ers, Portland Trail Blazers, Sacramento Kings, San Antonio Spurs, Toronto Raptors and Washington Wizards. Eight of these teams find themselves with a lottery pick and 16 first round choices will be decided between them so the point guards could and should go early and often.
While nobody knows for sure who will have the best pro career out of this assorted bunch, it can rationally be predicted that the NBA's future will be one filled with freestyle rhythm, can't blink quickness and last but not least, an eminent feeling of anticipation.