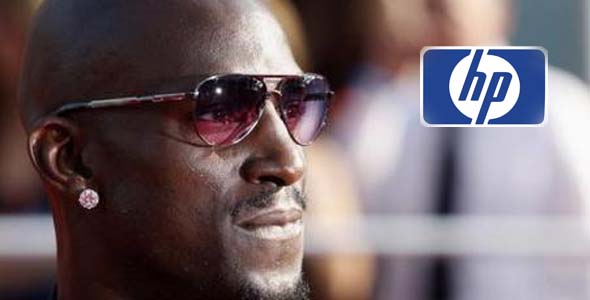 May 8, 2009 – Dr. J-Water
The Boston Celtics are working hard in the post-season to try and repeat as NBA Champions. It's sure to be a much more difficult task without their star forward Kevin Garnett anchoring their defense. Garnett can be seen with his teammates on the bench at every single Celtic game in his fine Italian suits, playing 'cheerleader'.
But besides cheerleading what has Garnett being doing to keep busy during his time away from the court? If you had 100 guesses would you somehow come up with a combination of computers, commercials, and Hewlett-Packard? Probably not. But sure enough yesterday I saw the first airing of the new Kevin Garnett commercial with Hewlett Packard for their HP DV-2. Incase you missed it here is the spot, and for you die hard fans of the Celtics i've included the behind the scenes footage I tracked down.