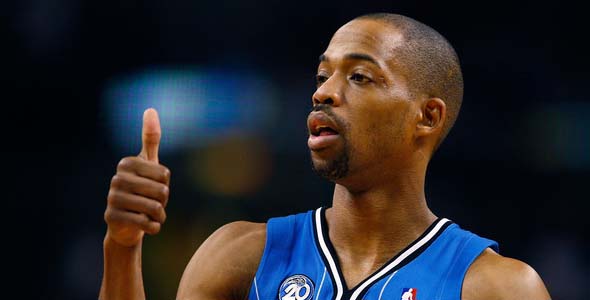 May 7, 2009 – Dr. Dime
Tonight the NBA has announced that after reviewing the two controversial plays by the point guards Derek Fisher and Rafer Alston in their respective Game 2's, they will each be suspended for Game 3. The Lakers and Magic will have to play without their floor generals and starting point guards in Game 3 against the Rockets and Celtics respectively. This should have a significant impact on both teams, as they rely heavily on their point guards to set the tempo. In the Lakers case, Fisher is a steadying hand with veteran know how and the ability to play under pressure. In the Magic case, Alston helps to keep the Magic running the break so they get easy buckets to avoid getting stagnant with too many half court three point shots.
The Derek Fisher play certainly deserved a suspension given the context of the hit he threw on Luis Scola. In the preceding play there was an altercation and words exchanged between Scola and a few Lakers players. On the ensuing play Derek Fisher knocked Scola to the ground, inadvertently head butting him in the process.
On the Rafer Alston play where he received the suspension for slapping Eddie House in the back of the head after House hit a three pointer right in Rafer Alston's face, I think the NBA could have laid out a hefty fine without necessarily handing out a suspension. The slap wasn't all that hard, and no one fight ensued.
And regarding the Ron Artest and Kobe Bryant situation, it seems the NBA has given Kobe Bryant a Flagrant One foul on the play, however no suspension will be handed down for either Kobe Bryant or Ron Artest. Here is what the NBA release had to say about it:
Jackson also announced that the Lakers' Kobe Bryant has been assessed a Flagrant Foul Penalty One for elbowing Houston's Ron Artest in the chest area with 6:57 remaining in the fourth period of Wednesday night's game.