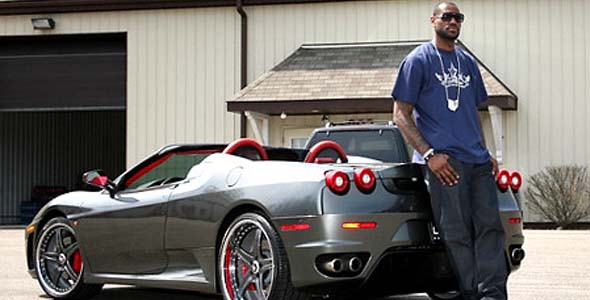 May 6, 2009 – Dr. Browntorious
Ever wondered what kind of car Lebron James drives? Well he doesn't just have one, among his numerous modified rides that include a Mercedes and Hummer, is this Ferrari F430 Spider that he bought and customized for his 6'8″ tall frame during last year's NBA playoffs campaign.
Why are we talking about Lebron James' cars? Because when Lebron James was announced this week as the 2009 NBA MVP he was given a car by the award sponsor, Kia Motors. But like many NBA MVP's before him he donated the car to charity. So it got me thinking, 'what kind of car does Lebron James drive?'
Then I was reading the Cleveland.com write-up about Commissioner David Stern's thoughts on Lebron winning this year's MVP award at such a young age, and I stumbled upon their mention of Lebron arriving at last night's playoff game in his Ferrari. At that point I was dying to see his ride. So being your favorite neighborhood blogger, *ahem*, I tracked down the following video of Lebron on his first day receiving his Ferrari F430 Spider. Not too shabby, I guess i'd roll in it….
Please enable Javascript to watch this video