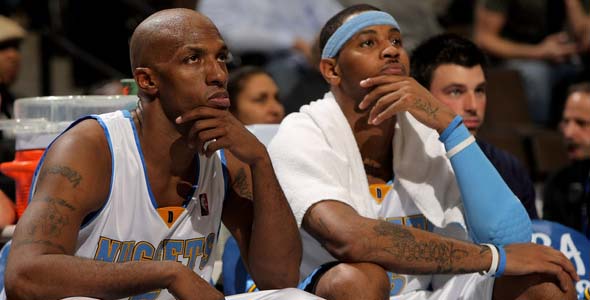 May 15, 2009 – Ryan Richman
Ryan Richman lives and dies with NBA Basketball. His biases include: all former and current UConn Men's basketball players, and any player past or present on the Golden State Warriors roster.
Outside of Cleveland, the Denver Nuggets look like the best team in the league hands down. But do they have the recipe to dethrone the Lakers as the Western Conference champions? Here are seven factors that make up a champion.
1.) The Floor General
What more can be said about Chauncey Billups? Since his hometown arrival, Billups has morphed a team with questionable work ethic and chemistry into a squad that looks like they've been playing together for years. They visibly trust each other and trust the system put in place. And off the court, Billups has brought professionalism that translates into great success on the court. Billups is a cold-blooded assassin on the offensive and defensive side of the ball. Most importantly, he is a true leader who makes everyone around him significantly better. Is there any other point-guard in the league you want running your team in a game seven in Los Angeles?
2.) The Coach
Ever since his days in Milwaukee, I've been as much of a George Karl adversary as anyone. However, ever since Chauncey came to town, Karl's career in Denver is rejuvenated. Karl looks as good as ever and even smiles once in a while (maybe that's just the Mike Golic weight loss program working). Karl has his coach on the floor in Billups and his hunger for a title. With Allen Iverson at the helm, he knew they would never get past the second round of the playoffs if that. With the team he has now, championship aspirations are legitimate, Karl knows that and it shows.
3.) The Emerging Superstar
Has anyone else been patiently waiting for Carmelo Anthony to finally become a superstar? These playoffs have become Anthony's coming out party and as an NBA fan, I couldn't be happier. Anthony can score with anyone in league and everyone knows that as he is averaging close to 27 points an outing this postseason. What's really impressive in these playoffs is his drastically increased defensive prowess. This postseason, Melo is leading the team in steals at a little over two a game and he is tied for second on the team in blocks at almost one a game. Of course you can still find him completely lost off the ball on defense. But otherwise, watch him defensively, he looks more focused and determined than ever before with that facet of his game. Off the court, he is becoming more of a professional as he wears suits to games and dabbles less and less in city nightlife. The aura of Chauncey has really changed him as a player and even more, as a person. Thank you Carmelo Anthony, you are finally starting to get it.
4.) The Bench
The combination of Anthony Carter, Linas Kleiza, Chris Andersen and J.R. Smith comprises the most effective bench in the league right now. Carter provides veteran and stable play at the point guard position. Kleiza spreads the floor with his shooting. Chris Andersen can defend, rebound and score. Every time he does something remotely productive, the fans go crazy. Including the players, the entire city of Denver feeds off of his one-of-a-kind energy. Last and certainly not least is J.R. Smith. Smith got robbed of the sixth man award because there is no one in the league that can come off the bench and score forty on any given night. Offensively Smith is as talented as anyone in the league and he has benefited most from Chauncey's arrival. This core of four players averages around 33 points a game during these playoffs.
5.) The X-Factor
As mentioned above, J.R. Smith is as good of a scorer as anyone in the league. He is automatic offense every time he comes in the game. Before coming to Denver, Billups has been quoted saying that Smith has all-star talent. In game four for example, he scored 19 points in just 28 minutes and in the fourth quarter he was hitting tough shot after tough shot with the shot clock expiring. He has that Ben Gordon offensive x-factor ability because when he gets hot, the defense is in for a long night. And like Gordon, you live with some of his terrible shots because he can score from any place in the arena. Also, Smith gives them another reliable scorer for close game situations. You must play him honest because he is capable of hitting big shots down the stretch and in turn, Smith opens the game up for Anthony and Billups (among others) because he's just as much of a threat than anyone else on the court.
6.) The Frontcourt
Nene, Kenyon Martin and Chris Andersen are tough, hard-nosed frontcourt players that will outwork and outmuscle the soft Lakers frontline. Add emerging star Carmelo Anthony to the mix and this group of guys is just as strong as any frontcourt in the entire league. They score, defend and rebound extremely well and they also possess that extra tenacity that will help them win games in the paint.
7.) The Stoppers
Dahntay Jones and Kenyon Martin are two extremely underrated defenders that will have the daunting, but not necessarily impossible task of covering Kobe Bryant in the Western Conference finals. Jones is more of a typical defensive specialist on the perimeter with quick feet and quick hands. Martin is a bigger more physical defender who can body up with Bryant especially when Kobe tries to post the smaller Jones. Even Billups and Anthony will see time guarding Kobe for some possessions just to give him several different looks. The Nuggets have versatile defenders to throw on Kobe to slow him down.
The Prediction: Barring either Kobe Bryant averaging 50 a game or an NBA conspiracy to have a Kobe-LeBron finals showdown, Denver is rolling and will take this series in seven. Yes, you read that correctly. Watch out Lakers.