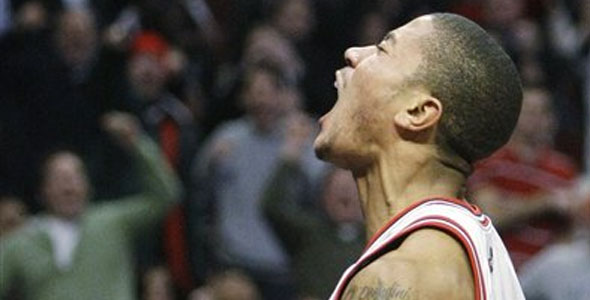 April 14, 2009 – Dr. Dime
Rose, Knows, Close…I guess i'm a poet and I didn't know it. But seriously though, Derrick Rose of the Chicago Bulls last night was a Pistons killer all game long. But it was coming down to crunch time in a game that is hugely important for both teams in their playoff positioning where he really started to shine. You wouldn't expect a rookie like Derrick Rose to be the player with the most poise on the floor. He sort of reminds me of another cool and collected young point guard in crunch time, Chris Paul of the New Orleans Hornets.
Derrick Rose has my vote for rookie of the year. He seemingly gets better with every passing game. Last night with under a minute remaining in the game and the Bulls down 3 points, Rose flew into the open court coast to coast. He took the ball at Rasheed Wallace hard using his body to create some space, switched hands in mid air (Jordanesque), and using his left hand finished with a soft kiss off the glass over the outstretched arm of Sheed. Tweet, hoop and the harm, And 1.
Of course being as poised and confidant as a veteran, Rose calmly knocks down the game tying free throw. Bulls went on to win. Check the replay: