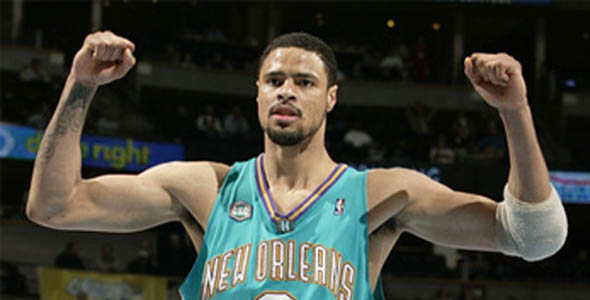 February 19, 2009 – Dr. Browntorious
The trade deadline every year throws NBA fans some curve balls and surprises. Generally those are reserved for trades that did or did not happen. Rarely is it both. Earlier this week we let you know that the New Orleans Hornets traded Tyson Chandler to the Oklahoma City Thunder for Chris Wilcox and Joe Smith. As recent as yesterday afternoon we talked about the amazing future of the OKC Thunder because of what some OKC fans were starting to call "the fearsome foursome" of Kevin Durant, Russell Westbrook, Jeff Green, and Tyson Chandler.
Well scratch that last one. Tyson Chandler has been returned to the Hornets for a refund. The trade was agreed upon by both teams, but not completely final as it was pending the player's physicals. Tyson Chandler did not pass his physical. Information has not been confirmed yet as to what part of the physical Chandler failed, but it was most likely something to do with his injured ankle. The Thunder medical staff must have found some damage in the ankle that was more serious and potentially long term.
Hornets fans were crying foul in the streets after Chandler was traded in what was seen as a 'cost-saving' move by the New Orleans executives. But what now? If I were living in New Orleans right now, i'd be more than a little concerned that a team as desperate for interior defense and rebounding as the Thunder, returned Chandler due to health reasons. Now the Hornets are stuck paying a player 12 and 13 million over the next two seasons, who may not be able to play at 100% health (if he plays at all). Personally, I think the Hornets would have been a lot better off with two serviceable rotation guys for the rest of the season like Chris Wilcox and Joe Smith who have expiring contracts, given Chandler hadn't been playing all that great this season before his injury anyway.
As for the Thunder, well the trade deadline doesn't end until this afternoon. Maybe they have something else in the works?