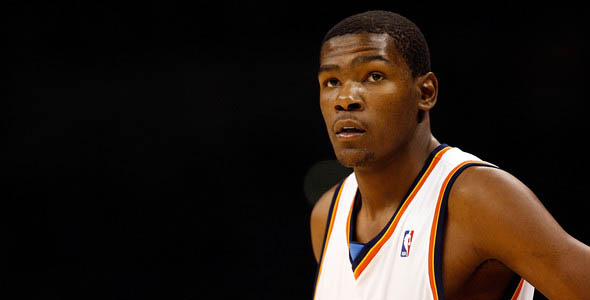 February 18, 2009 – Dr. Dime
So the New Orleans Hornets traded Tyson Chandler to the Oklahoma City Thunder this week for Chris Wilcox. A lot of you Hornets fans must be thinking "WTF!" right? It was clearly a move to cut costs as Chandler was due 12 and 13 million in the next consecutive seasons respectively. Wilcox on the other hand has an expiring contract.
Sure it might be a good move financially, but personally I think it says a lot more about the Hornets goals for this season. They basically have waved the white flag. They've given up on their hope coming into this season of winning the title. There were times in the pre-season we all thought the West this season would be a battle between the Lakers and Hornets. More and more these days it's looking like a one horse race in the West. This trade by the Hornets somewhat solidifies that logic. As for the OKC Thunder, what steal, right? Tyson Chandler's stock was low right now after an inconsistent season due to a variety of injuries and health problems. To get a Center of Chandler's capability for at least two years, for nothing more than a couple of expiring contract's is a great win for the OKC franchise.
How about the future now of the OKC Thunder? Talk about young blood. The OKC Thunder in my opinion are going to be one of the fiercest young teams in the league for the next couple of years, ans possibly beyond. It reminds me of how Kevin Pritchard of the Portland Trail Blazers was able to make moves over the past couple of years to amass a wealth of young talent and let them grow together until they became one of the better teams in the Western Conference this season. Think about the Thunder line-up for a second, Russell Westbrook at PG, Kyle Weaver at SG, Kevin Durant at SF, Jeff Green at PF, and Tyson Chandler at C. Now that may be one of the youngest (if not the youngest) starting line-ups in the league, but they definitely will be able to hold their own.
The scary thing is, Kevin Durant seems to get better with every game. He is quickly becoming one of the most lethal scorers in the NBA, last night putting up another huge game with 47 points! Durant has crazy range on his jumpshot, lately he has been pulling up 1-2 feet behind the three-point line like it's a free throw. The Thunder's rookie point guard Russell Westbrook has freakish athletic ability and great court vision for a rook, and excites his team nightly with some highlight reel dunks. Rookie Kyle Weaver has only started 7 games this season for the Thunder but he is showing some promise as a serviceable rotation guy. With Earl Watson and Chucky Atkins on the bench the Thunder still have options to go with a small guard lineup and run the floor. One player on the Thunder who often gets overshadowed by Durant is power forward Jeff Green. The second year Green has been putting up consistently impressive numbers all season long averaging 16.7 points, 6.6 boards, and 2 assists per game. What has Thunder fans excited is how well Durant and Green play off eachother having come up so far together in the league.  The better the shooting night for Durant, the more open Green seems to be for the dump pass. Take last night for example, when Durant put up 47 points, Green had an impressive 24 and 7. The most impressive thing to me about Green however is his ability this season to shoot the long ball. He is connecting at 42% from long range, which is pretty lethal for a power forward.
So now add Tyson Chandler into the mix to rebound and block shots and the OKC Thunder's greatest weakness of interior defense has dramatically improved. Now all those close losses they have suffered this year may turn into W's.  Last night was the perfect example when Chris Paul drove the lane for the game winning bucket. Maybe next time his old pal Tyson will be there to send it out?
OKC fans get ready, your Thunder are about to start rollin'….