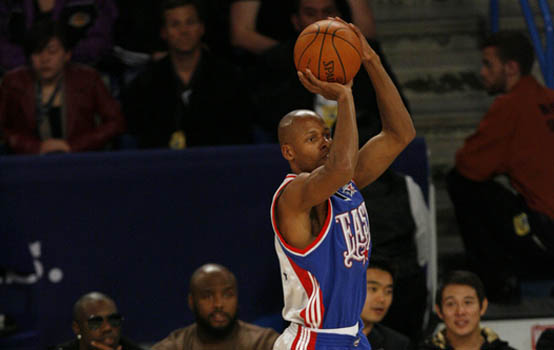 February 5, 2009 – Dr. J-Water
Boston Celtics fans it's time to start rejoicing. The 'Big Three' are all now set to play at the NBA All-star Weekend! Today the NBA announced that Ray Allen will replace the injured Orlando Magic Point Guard Jameer Nelson in the All-star game for the Eastern Conference team. Ray Allen last year was also named as an injury replacement for the East Team, and ended up scoring 28 points! It will be interesting to see if Allen can better his performance from last year.
I'm very happy with the NBA's choice for Jameer's replacement as Allen has been playing at a very high level this season, and some may even say he has been the Celtics leader to this point. Often times Allen has been the go-to guy late in games for the Celtics to get them over the hump. He has been shooting the long-ball at a light's out 41% clip which is just insanely accurate. He's also averaging career-lows in turnovers. I've got to say it, "He's Got Game".
So it's a done deal, Jesus Shuttlesworth is headed to Phoenix, Arizona to play in the All-star Game on February 15th.