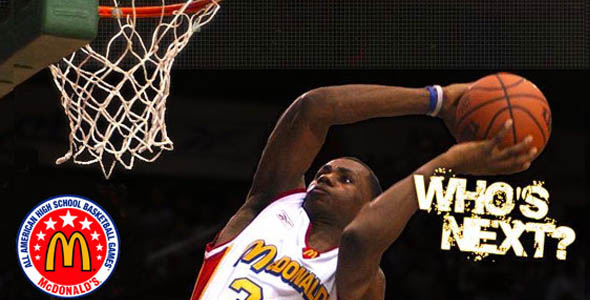 February 18, 2009 – Dr. Anklesnap
On April 1st, 2009 The McDonald's All-American Games will bring the top High School basketball talent in the nation to Miami to play in a game to raise money for Ronald McDonald House Charities. The Games will be played at the University of Miami Bank United Center. Every year these talented players go on to play in top NCAA basketball programs and many end up being NBA superstars.
Tonight the Media Contacts for the McDonald's All-American game were kind enough to give us the roster's for the game as they were being announced so that the readers of The Hoop Doctors would have a chance to start predicting the next big star.
EAST TEAM
13 Kenny Boynton, Jr. (Guard, 6-3, 190, American Heritage School, FL)
32 Dominic Cheek (Guard, 6-6, 185, St. Anthony High School, NJ)
15 DeMarcus Cousins (Center, 6-11 265 LeFlore Magnet High School, AL)
34 Derrick Favors (Forward 6-9 235 South Atlanta High School, GA)
24 Milton Jennings (Forward 6-9 215 Pinewood Preparatory School, SC)
4 Ryan Kelly (Forward 6-10 217 Ravenscroft School, NC)
33 Alex Oriakhi (Center 6-9 240 Tilton School, NH)
30 Peyton Siva (Guard 6-0 175 Franklin High School, WA)
1 Lance Stephenson (Forward 6-6 220 Abraham Lincoln High School, NY)
7 Dexter Strickland (Guard 6-3 180 St. Patrick High School, NJ)
11 Dante Taylor (Forward 6-9 230 National Christian Academy, MD)
2 Maalik Wayns (Guard 6-1 185 Roman Catholic High School, PA)
Co-Head Coach Darryl Burrows, Dillard High School
Co-Head Coach Mark Lieberman, Monsignor Edward Pace High School
Assistant Coach Derek Heard, Pasco High School
WEST TEAM
11 Avery Bradley (Guard 6-3 180 Findlay College Prep, NV)
3 Abdul Gaddy, Jr.(Guard 6-3 183 Bellarmine Preparatory School, WA)
31 Keith Gallon (Center 6-9 293 Oak Hill Academy, VA)
13 Xavier Henry (Guard 6-6 225 Putnam City High School, OK)
22 John Henson (Forward 6-10 200 Sickles High School, FL)
33 Wally Judge (Forward 6-9 230 Arlington Country Day School, FL)
5 Tommy Mason-Griffin (Guard 5-11 192 James Madison High School, TX)
32 Mason Plumlee (Forward 6-11 220 Christ School, NC)
1 Renardo Sidney (Center 6-10 250 Fairfax High School, CA)
21 Michael Snaer (Guard 6-5 200 Rancho Verde High School, CA)
12 David Wear (Forward 6-10 225 Mater Dei High School, CA)
24 Travis Wear (Forward 6-10 230 Mater Dei High School, CA)
Head Coach Pat Clatchey, Mount St. Joseph High School
Assistant Coach Brett Davis, Mount St. Joseph High School
Assistant Coach Doug Nicholas, Mount St. Joseph High School