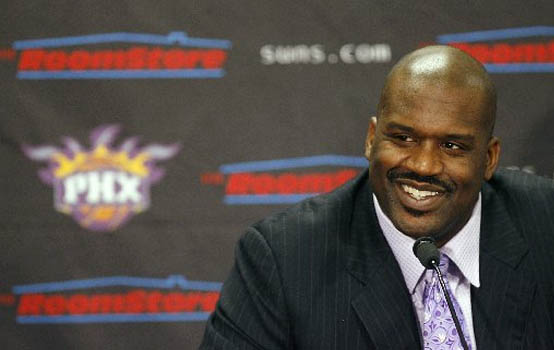 December 15, 2008 – Dr. Dime
Shaquille O'Neal of the Phoenix Suns has pulled down his fair share of backboards over the years. In fact he's not only shattered backboards but also pulled down the entire goal on multiple occasions. Before tonight's game between the Phoenix Suns and the New York Knicks I was wondering how Shaq would fair against the small Knicks front line players. Well that question was answered very early on and frequently by the big man. Shaq came out strong with some powerful moves and thunderous dunks.
The dunk shown in this video however was probably the most thunderous dunk of the night for the big fella, and probably the most powerful dunk of the season for any player. Lebron can come with the thunder from time to time, but when it comes to raw dunking power, the Diesel is a Mack Truck! As you'll see in the video Shaq cleared a bit of space then dunked so hard in the face of about three Knicks players that the entire backboard and goal looked like it was in danger of coming down. The announcers even commented on his dunk saying…"I could swear he's mad at the rim right now!" and then "man, that was hard!"
Enjoy, and don't try this at home kids….