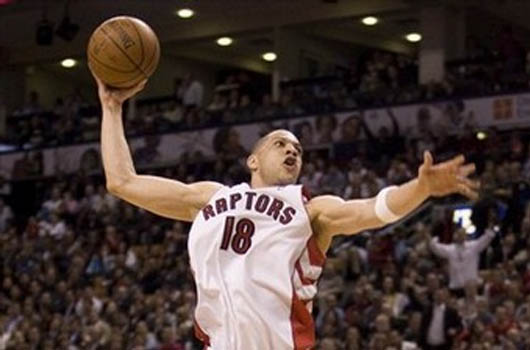 December 15, 2008 – Dr. Dime
Heading into yesterday's game against the New Orleans Hornets the Toronto Raptors have started to play some good 'heady' basketball again. The ball movement has started to improve, the defense has tightened, Jamario Moon has started to once again show the energetic play that defined his rookie year with the Raps last year, and Jason Kapono and Jose Calderon have gotten back to efficient shooting.
And even though the Raptors lost to the Hornets, those that watched the game closely will have realized the Raptors carried over that great play, and were in a tight battle all the way, but just couldn't overcome the 3-pt punishment veteran James Posey was dishing out, going 6-10 from beyond the arc.
Raptors new coach Jay Triano made his first surprising move of the season when he decided not to start Anthony Parker at the SG spot, and instead decided to reward the recent hot shooting of Jason Kapono with a starter's role. While this flip flop seemingly backfired as both Parker and Kapono shot extremely poor from the field, it may not be a finished experiment as one game in a new or altered role is difficult to adjust to.
Parker did however adjust to coming off the bench just long enough to at the very least make this gorgeous, no-look, behind the head, touch pass to Jermaine O'Neal for the two handed throw down. In the words of the great Bill Walton: "Throw it down big man, One-time, Throw it down!"