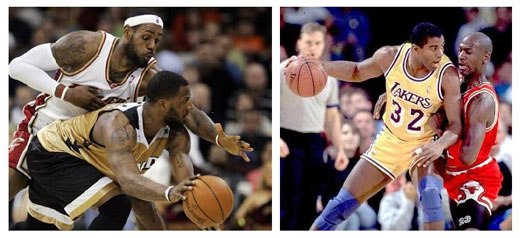 May 13th, 2008 – Dr. Dime
I will not say Lebron James is struggling offensively. Considering his penetration, passing, positioning, and even just the defensive attention he attracts it makes for good team offense regardless. What I will say is that all series long Lebron James has struggled with his shot.
The only reason his shooting struggles are even a factor for discussion is that Cleveland has never been a very high scoring team, so a drop in Lebron's point production generally means there is a ton of pressure on the role players and team defense. One of the Cavaliers greatest strengths has always been the ability for Lebron's teammates to feed off the energy of James on his electrifying offensive plays. Lucky for Cavs fans, Lebron has been serving up a double dose of electrifying defense instead this series. And generally in the clutch moments of these close games against the Celtics in round two, Lebron has been guarding seemingly 3 or 4 guys at once. He's everywhere. Here is a Game 3 example of the high flying, aggressive defense he has played all series:
Everyone talks about Lebron being on his way to matching the greatness of Michael Jordan. Although there will never be another player like Michael Jordan, what reminds me of Jordan most in Lebron's game is his ability to recognize his weakness on any given night and then consciously decide to effect the game in so many other ways. The type of player that has the ability to self-assess their game in real-time and adapt on the fly is very rare.
We saw a good example of just how rare that ability is to come by (even in NBA star players) in the Game 4 of the Lakers-Jazz series Sunday afternoon. Whether Kobe Bryant's play was affected or not by his strained back is not the issue. The issue is that even though Kobe was clearly not his normal self offensively in the 4th quarter, he continued to launch three pointer after three pointer and jumper after jumper, all the while piling up the bricks and allowing the Jazz to get the win.
Anyone notice D-Fish had the stroke? Pretty sure everyone but Kobe noticed.
Derek Fisher was H-O-T from long range in the 4th quarter and Kobe was cold, but Kobe failed to recognize the deficiency in his own game in real-time. In hindsight, if Kobe swings the ball once more to Fisher on a couple of those bricks, they may be up 3-1 in the series. I don't want to knock the MVP, because he has played great in the playoffs thus far and there are only a rare few that would recognize this in real-time and adjust. Why don't more players adjust in real-time? Think about this…what are shooters told day in and day out by their handlers when they hit a shooting slump? "Keep Shooting!" "Shoot yourself through it!" If a shooter is told this for multi-game slumps, it's no wonder he can't recognize just an off-night and adjust when it happens.
Enough about Kobe, Lebron James shot only 7 for 20 in Game 4 of this series! Cavaliers must have gotten blown out right? Wrong. Just like MJ would have done, Lebron recognized his offensive struggles and adjusted his focus to all other facets of the game. After his cold start shooting, Lebron completely took over the game in ever other statistical category. James finished with 13 assists, 6 rebounds, 3 steals, 2 key blocks, 2 big threes, and one emphatic power dunk in the closing minutes of the game to completely energize the Cavaliers and simultaneously demoralize the Celtics. For those of you that are unsure what it means to be a "clutch" player, check out this nasty throw down in the closing minutes:
Now that the series is heading back to Boston, the series has become a best of three. Holding home court just isn't going to cut it anymore, as two of the final three games in this series are in Boston. If the Cavaliers want to have a real shot, Lebron has to continue to be a defensive stat stuffer and anchor the team's defensive energy. We all knew this series would be a battle of defensive heavy weights, but I don't think anyone would have predicted the shooting struggles of Lebron, Ray Allen, Paul Pierce, and Rajon Rondo.
The good news for Cleveland is that another game of this series went by with Rajon Rondo jacking up the second most shots on his team, completely squeezing out All-stars Ray Allen, Paul Pierce, and even Kevin Garnett from the offense. Most significantly this happened for long stretches in the 4th quarter and clutch time. Sam Cassell is a great offensive back-up for Rondo, but there has been very few shots Sam didn't like in his career. Maybe the Celtics biggest weakness is there lack of a point guard who can consistently feed the rock to the Big Three in a position to score?
Playoffs are all about adjustments. I'm anxious to see what Doc Rivers has in store.
And will LJ be like MJ and continue to adapt in real-time?